More law enforcement being deployed to Abaco, amid "terrible disregard for the safety and security of others"
NASSAU, BAHAMAS- As The Bahamas faces a "national crisis" in the aftermath of Hurricane Dorian, a devastating Category 5 storm which flattened communities in Grand Bahama and the Abacos, claiming the lives of at least 23 people and displacing thousands, Prime Minister Dr. Hubert Minnis said last night that no effort will be spared in rescuing survivors, and providing emergency supplies and shelter to those impacted.
"As prime minister, I assure you that no effort will be spared in rescuing those in danger; feeding those who are hungry and providing shelter to those who are without homes," the prime minister said following an aerial assessment of Grand Bahama.
"Our response will be day and night, day after day, week after week, month after month, until the lives of our people return to some degree of normalcy.
"The people of The Bahamas are already showing their compassion and love of their brothers and sisters on Abaco and Grand Bahama."
The prime minister called on the nation to unite as the government uses every resource available to provide relief amid this "historic tragedy".
"Most of us have relatives on Grand Bahama and Abaco," he said. "They will have to rely on us, especially those of us on New Providence to rebuild their lives. New Providence must be the bedrock and the command center to rebuild Grand Bahama and Abaco. We will rebuild better and stronger."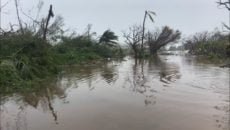 He invited the nation to pray for the those who have lost their lives and their families, as well as those who continue to suffering in the aftermath of the deadly storm.
As of yesterday, the confirmed death toll had risen to 23 — six in Grand Bahama and 17 in Abaco, however, the prime minister said that figure will is certain to rise.
"Let us continue to remain steadfast in our faith and to rely on our God, who made heaven and earth and who restores hope and lives," Minnis said.
He continued, "Robust charitable efforts are underway across the islands not affected.
"I want to again encourage Bahamians to keep giving and volunteering with reputable charities with proven records."
The prime minister and delegation of officials performed an aerial assessment of Grand Bahama Wednesday afternoon. He described the scenes of the island and its communities as "devastated", adding that "much of Grand Bahama is underwater".
"Many homes, businesses and other buildings and infrastructure are either decimated or badly damaged," he said.
"There are a significant number of people in shelters.
Healthcare provisions on the islands remain challenged with 80 per cent of electrical wiring at the Rand Memorial Hospital — the primary source of healthcare on the island — damaged; extensive flooding in theater rooms that have been rendered unsanitary.
As medical evacuations continue with the aid of the United States Coast Guard and private aircraft authorized to fly into the storm-ravaged island, the prime minister noted that many are suffering on Grand Bahama, and there are those who sustained "life-altering injuries" which will require surgeries and in some cases therapy.
This afternoon, Minister of Health Dr. Duane Sands said medical personnel from the region and international community were being provided credential to assist local healthcare efforts on the ground in both impacted islands.
Looting
There have been numerous unconfirmed reports of armed bands of people looting in Abaco, raising grave concerns among residents both on the ground and across the nation about the safety of their relatives, amid a national crisis in the aftermath of Hurricane Dorian.
The prime minister assured that more help is on the way, and various agencies, including the police force, defense force, the Royal Navy of the United Kingdom, among other entities, were on the ground providing assistance.
"Bahamians are distressed that anyone would loot and further the suffering of those affected by this tragedy," he said.
"There is a terrible disregard for the safety and security of others. Be warned; we will prosecute looters and other lawbreakers to the full extent of the law. We are a country of laws. I have mobilized the full resources of the government for search and recovery missions in Abaco and Grand Bahama.
"To reinforce security of these islands, additional police and defense officers have already been deployed. More security personnel were transported to Abaco today (Wednesday)."
According to the prime minister there were approximately 60 police officer permanently stationed on Abaco, many of whom have also lost their homes and were acting with "resolve and with bravery in the performance of their duties".
Thanking first responders, civilian rescuers, volunteers for saving and protecting lives, as well as their hard work to "ease the suffering of those who have lost so much", Minnis announced that Carnival Corporation has partnered with Tropical Shipping and NEMA to collect and deliver NEMA-approved food and supplies donated in South Florida for residents in the impacted areas.
A contractor engaged to clear the harbor in Marsh Harbour with the assistance of the Royal Navy were successful in clearing the area this afternoon, opening means of delivering emergency and basic supplies by boat.
Donations and pledges of financial support have been made in droves. While the tally of financial contributions remains unclear, Eyewitness News understand that millions of dollars have been either committed in humanitarian relief.
While the prime minister advised Wednesday night that the Leonard M. Thompson International Airport at Marsh Harbour, Abaco and the Grand Bahama International Airport in Freeport was closed, the minister of health confirmed today that the
The prime minister welcomed teams from the international community and from CARICOM to aid in response, noting that many leaders have already pledged their support in The Bahamas' "hour of need".
The United Nations Under-Secretary-General for Humanitarian Affairs and Emergency Relief Mark Lowcock advised that the UN pledged $1 million in aid and will be sending experts to help with the relief and recovery efforts, including the provision and distribution of food and water.
United States President Donald Trump has pledged the assistance of the US.