Foreign affairs minister: We are not yet sure what we will do but we are working with CARICOM and discussing in Cabinet
NASSAU, BAHAMAS — Minister of Foreign Affairs Darren Henfield said yesterday that the government is in discussions on how it would be able to provide assistance to Haiti, which was struck by a 7.2 magnitude earthquake over the weekend.
Henfield told reporters outside the Office of the Prime Minister that The Bahamas is currently in discussions with its CARICOM partners to provide assistance through that mechanism.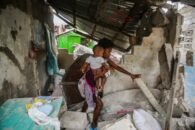 "Our prayers and thoughts are with the people of Haiti," he said. 
"Just coming out of a political crisis almost with the assassination of President [Jovenel] Moise, exacerbated by the fact that they hadn't begun their COVID vaccinations, and to add insult to injury comes an earthquake at a time that is really inopportune for them.
"We have not yet determined what we will do as a country but we are determined to work with CARICOM through CDEMA (Caribbean Disaster Emergency Management Agency) to respond to Haiti in whichever way we can, as we always do in these incidences."
The death toll in Haiti has climbed to 1,900 people and thousands were injured or displaced from damaged or destroyed homes. An unknown number of people are still missing.
Henfield said there were no reports of Bahamians in Haiti being injured or killed in the earthquake.
Several Bahamians and residents have been stuck in the country due to an ongoing travel ban, which was issued in mid-February for 21 days and has since been extended several more times.
Following the ban, Henfield said the government was concerned citizens traveling from Haiti could pose a greater risk of spread of the virus, especially as Haiti had yet to implement a vaccination program.
Haiti began its vaccination program in recent weeks.
The foreign affairs minister said yesterday that the government is still working assiduously to see how to remedy the situation.