NASSAU, BAHAMAS — Commissioner of Police (COP) Paul Rolle assured that the Royal Bahamas Police Force's (RBPF) body camera and ShotSpotter programs are active and working, noting that additional improvements are being made.
Last August, the RBPF rolled out 200 body-worn cameras and 200 dash cameras in patrol vehicles.
During a recent interview on ILTV's Beyond the Headlines with host Clint Watson, the commissioner praised the work of his officers and insisted they are being held accountable through the force's new technology upgrade.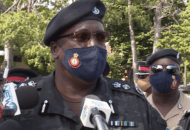 Rolle said all body cameras and dashboard cameras are working efficiently, adding: "I don't believe that we have sufficient."
He said several police-involved incidents have been solved using the camera footage — which officers have no access to tamper with.
He pointed specifically to an incident that occurred last August, when a video purportedly of a police officer body-slamming a man during an arrest outside the Village Pub on Balfour Avenue went viral.
Rolle said that matter went before the police tribunal, the body camera footage was reviewed and the officers were tried and convicted.
However, the COP has previously noted the public should not expect the release of footage to be similar to the process followed in the United States.
As for the ShotSpotter technology that notifies police once a shot is fired, Rolle also assured it is working and being upgraded to work in tandem with other police resources.
"We have already installed the integration software that enables the CTTV, ShotSpotter and drones, that once a shot is fired, the drones will lift and go to the location where it's at and begin filming," he said.
"Persons in the real-time crime center can see the movement of the drone, can see people, take control of it, control the camera, snap photographs and send to officers who are responding.
"You will see a lot of that being utilized in times to come."
The COP noted, however, that the integration system is still being tested.