FNM chairman says more women will be put forth in final tranche of candidates
NASSAU, BAHAMAS — Both the Free National Movement (FNM) and Progressive Liberal Party (PLP) are expected to complete their slate of candidates for the upcoming general election by the end of the month.
FNM Chairman Carl Culmer and PLP Chairman Fred Mitchell told Eyewitness News their perspective parties are continuing the vetting, nomination and selection process.
Culmer said that within the next three weeks, the party hopes to present its full slate of candidates to the Bahamian people.
He indicated that Bahamians can expect more women to be put forth in the last tranche of candidates, though he could not reveal how many.
Similarly, Mitchell said the PLP's Candidate's Committee is still undergoing work that will take "some considerable more time".
Though he said that process should be wrapped up by the end of April, Mitchell could not say how many women will make up the party's slate, indicating that that will not be known until the process is complete.
Culmer noted that while the FNM continues to encourage women to come forward, it remains a challenge because of the political climate.
"Women must be willing to step forward and to put their names on the table," he said.
"…We must improve the environment that has been created, mainly by the persons on the opposite side when they stoop into this negative and petty environment that they create for politics.
"Our leading citizens don't want to come in that type of environment."
Culmer added that the matter must be addressed immediately.
Both major political parties have already begun efforts to jumpstart their election campaigning, including canvassing various communities.
Health officials have stopped short of condemning political gatherings and campaigning, but have underscored that public health measures, including social distancing, limited group gatherings and mask-wearing, should be adhered to by all and are not exclusive to any group.
Culmer insisted: "Persons are eager to get out there and campaign, but our party has encouraged everybody, when they come out, to comply with the [protocols]."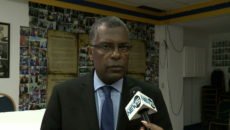 Mitchell has maintained that the party's supporters and candidates are following protocols as they hit the streets.
The PLP has already named 32 candidates vying for office, while the FNM has ratified 30 candidates, with some incumbents not receiving nominations.
The PLP has yet to ratify candidates for Bamboo Town, Central Grand Bahama, East Grand Bahama, Marco City, Pineridge, West Grand Bahama and Bimini, Central and South Abaco and Mangrove Cay and South Andros.
The FNM still has to ratify candidates for Carmichael, Englerston, Fort Charlotte, Fox Hill, Nassau Village, Killarney, Seabreeze, Pineridge and South and Central Eleuthera.
The prime minister has yet to call a date for the election, which only he holds the power to do, though both PLP and FNM insiders believe it will be called before the next budget debate.