NASSAU, BAHAMAS – Two-time Olympic gold medalist Shaunae Miller-Uibo is the new World Indoor Champion in the Women's 400m.
She crossed the line in 50.31 seconds at the World Athletics Indoor Track and Field Championships in Belgrade, Serbia on Saturday.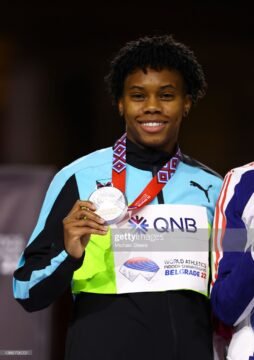 Bahamian Olympic hurdler Devynne Charlton placed second in the Women's 60mh, matching her national indoor record of 7.81 seconds.
Five Bahamians in Belgrade this weekend: Athonique Strachan – 60m; Shaunae Miller-Uibo – 400m; Megan Moss – 400m; Devynne Charlton – 60mh; and Donald Thomas – High Jump.
Moss did not advance to the finals with a time of 54.03 seconds.
Strachan finished the 60m in 7.17 seconds, a new personal best but not enough to advance to the finals.
Donald Thomas finished 11th overall in the Men's High Jump.
Yesterday, Sports minister Mario Bowleg said: "
The great athletes who continue to represent our country proved once again why The Bahamas is the best little country in the world. The five-member team representing The Bahamas placed sixth out of 29 countries, on the medal chart, with one gold and a silver. New national and personal best records were also set at the World Athletic Indoor Championship, held in Belgrade, Serbia. 
Bowleg continued: "In true brilliance, Shaunae Miller-Uibo a class act, ran off with the indoor title in the women's 400 meters(m). The two time Olympic champion, Miller-Uibo's time, 50.31 seconds, is also a season's best, and her first gold medal at the senior level, for the indoors. She won her a bronze medal in 2014, at the Sopot Championships. Also running in the women's 400m was Meghan Moss who clocked 54.03 seconds.
"Setting a new national record in the women's 60m hurdles was Devynne Charlton. The Olympian ran her way onto the medal podium with a 7.81 clocking."
Bowleg said: "Advancing to the semifinals and running a personal best time, in the women's 60m was Anthonique Strachan. She placed fourth in her heat, in 7.17 seconds. High jumper Donald Thomas bowed out of the competition at 2.20m."
He added: "Congratulations to all the athletes for a stellar job. I wish you all continued success throughout the season. Go Team Bahamas!"