Plans intact for dramatic rebirth of Grand Lucaya, 100-plus calls through October
NASSAU, BAHAMAS — With at least one cruise ship a day diverting to Grand Bahama to deliver relief supplies and provide some 20,000 meals for victims of Hurricane Dorian, Royal Caribbean Cruises said it was pulling out all the stops to get business back to normal with ships resuming all calls into The Bahamas and the re-opening of Perfect Day at CocoCay in the Berry Islands.
"While we have been focused on offering assistance with the hurricane recovery, we would like to assure the people of The Bahamas that we remain committed to the long-term success of the Bahamian tourism industry, which includes our plans to dramatically transform the Grand Lucaya resort with our partners at ITM through our joint venture, Holistica Destinations," Royal Caribbean President and CEO Michael Bayley said.
"We are greatly relieved to know that all 370 employees, whom we evacuated from CocoCay before Dorian are safe and back on the island," Bayley said. "For those who did not have family to stay with in Nassau or another island that was not expected to be in the path of the storm, we sheltered in hotels and other accommodations, trying to make them as comfortable as possible as we waited out the horrific events of the past 10 days."
Photos of the teams arriving back at CocoCay showed team members hugging with relief that their work family was safe and excited to be reunited.
"You could see the raw emotion on their faces and also a sense of relief that work was resuming which meant life was beginning to return to some sort of normalcy," said Vice President of Government Relations for the Americas Russell Benford.
In May, Prime Minister Hubert Minnis and other officials were on hand to celebrate the grand opening of Perfect Day at CocoCay following a $250 million investment that transformed the cruise industry's first private island destination into a thrill or chill experience unlike anywhere else with over-the-top water slides, beach experiences, live entertainment, attractions and dining options.
Royal Caribbean also revealed yesterday that, driven in part by demand for stops at Coco Cay, this year's schedule will deliver an increase in calls to the port of Nassau, up some 29 per cent year-over-year from now until the end of October.
"It's very important for all of us in the hospitality industry to do all we can in our individual and joint capacities to support business in The Bahamas," Benford said. "Our ships will be making more than 100 calls on Nassau in the next couple of months as part of our effort to boost economic recovery as well as satisfying our guest demand for The Bahamas, which remains our number one destination."
Benford described the ties between the award-winning cruise company and The Bahamas as the strongest they have ever been.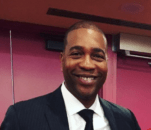 "Royal Caribbean International's commitment to The Bahamas has never been stronger than it is today and as we mark 50 years this year since our first ship sailed into Nassau Harbour on our company's inaugural cruise, we join those many entities who want to do all we can to help the beautiful people of this nation recover from Hurricane Dorian," Benford said.
"We know that one of the most important contributions we can make as a company is to bring guests to the shores of The Bahamas and do all we can to boost business."
In the wake of the worst storm in the country's history – a raging behemoth with winds of up to 220 mph that hung over Grand Bahama and Abaco for days, leaving a trail of devastated communities in its wake — Royal Caribbean announced it would make a $1 million donation to the recovery effort.
It has worked closely with NEMA, the National Emergency Management Agency, and government officials. It is also providing 20,000 meals a day in Grand Bahama and has delivered nearly 150,000 bottles of water; 25,000 square feet of plywood; 400 generators and 114,000 diapers among other critical supplies.
The company also reaffirmed its plans to invest in Grand Bahama and said the storm did nothing to deter it from moving forward in its current negotiations with government in regard to its purchase, along with ITM, a successful Mexican-based hospitality company, of the Grand Lucayan properties and the port.
Minister of Tourism Dionisio D'Aguilar said outside the Cabinet Office on Tuesday that the property sustained minimal damage in the aftermath of the Category 5 storm.
The schedule of calls for ports in The Bahamas shows a planned itinerary of 108 calls between September 5 and October 31.