Team Bahamas captured two more medals on Thursday at the 2018 Commonwealth Games in Gold Coast, Australia, bringing the country's total medal count to three.
Shaunae Miller-Uibo won gold in the women's 200-metre (m) dash in a new games record of 22.09 seconds, smashing Debbie Ferguson's old record of 22.20 seconds.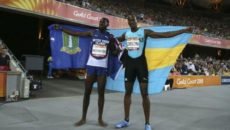 Shericka Jackson, from Jamaica, was second in a personal best 22.18 seconds, and Dina Asher-Smith, from England, was third in 22.29 seconds. Olympic gold medalist, Elaine Thompson, from Jamaica, finished fourth in 22.30 seconds.
In the men's 400 hurdles, Jeffrey Gibson ran a season's best 49.10 seconds and picked up a silver medal in the event. Kyron McMaster, from the British Virgin Islands, won the race in 48.25 seconds, and Jamaican Jaleel Hyde was third in 49.16 seconds.
Bianca Stuart and Latario Collie represented The Bahamas in the field events. Stuart finished eighth overall in the final of the women's long jump with a mark of 6.30m. Canadian Cristabel Nettey won the event in 6.84m, Brooke Strattion, from Australia, was second in 6.78m, and England's Shara Proctor was third in 6.75m.
As for Collie, he finished sixth in the qualifying round of the men's triple jump with a leap of 15.98m. Arpinder Singh, from India, won the event with a leap of 16.39m, followed by Roger Haitengi, from Namibia, with 16.36m. Muhammad Hakimi Ismail, from Malaysia, also hit 16.36m, however, it took him more attempts to hit the mark.
Sean Wrinkle, the sole Bahamian wrestler at the games, fell 4-0 to Connor Evans, from Australia, in the men's freestyle 74 kilogram (kg) 1/8 final.
Only the men's 4x400m relay team will represent The Bahamas on Friday at the games. The team competes in heat two, which also features regional rivals Jamaica and Trinidad and Tobago. The men's relay pool is made up by Ojay Ferguson, Michael Mathieu, Ramon Miller, Stephen Newbold, Alonzo Russell and Teray Smith.