Maura: It is very important that thousands of Bahamians are given the opportunity to invest in the Nassau Cruise Port
NASSAU, BAHAMAS — Bahamians will get an opportunity to own an equity stake in the Nassau Cruise Port when an initial public offering (IPO) for small investors is launched in October, according to cruise port CEO Mike Maura Jr.
In an interview with Eyewitness News, Maura said: "We expect that to happen in October of this year. Come October, we should be somewhere around the 80 percent complete stage in marine works, and we would have broken ground on our upland works."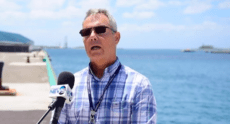 Maura added: "It is very important that at a time such as this, when thousands of Bahamians are given the opportunity to invest in the Nassau Cruise Port, that they have an opportunity to come down and see what's been going on for the past year and a half.
"We do appreciate that for many of these investors it may be the first time they are investing in a company generally. We want to provide them with opportunity to be educated and informed at the time of their investment."
The IPO had originally been targeted for the second quarter of this year. The offering of a close to $25 million equity stake in Prince George Wharf's transformation had been delayed until the 2021 third quarter in the hope that the economy would have rebounded sufficiently from the COVID-19 pandemic.
Bahamian investors will be given the opportunity to make the minimum $1,000 investment in the Bahamas Investment Fund (BIF), the vehicle that will hold a combined 49 percent stake in the cruise port on their behalf.
The Nassau Cruise Port is currently in the middle of a dredging operation, which began last week. Maura estimated there is another 10 to 12 days of dredging to be carried out.
"We are about close to 65 to 70 percent on the marine works and we are going to be breaking ground this month on the upland works," said Maura.
"The upland works would include the arrivals terminal, Junkanoo museum, marketplace where we will have up to 50 authentically Bahamian entrepreneurs selling their retail items as well as food and beverage, then go into the plaza with the bigger businesses."
The new cruise port is expected to be ready by summer 2022.