"We feel there should be drive-thru allowed for persons in those situations and let people vote"
NASSAU, BAHAMAS — NASSAU, BAHAMAS — Two political third parties yesterday urged the government Bahamians who have been exposed or contracted the coronavirus from executing their constitutional right to .
The government has yet to announce a definitive position on whether those in quarantine will be allowed to cast their ballot.
The emergency powers require infected individuals or those who have had potential exposure to quarantine for a period of time — typically 10 days, following which a COVID-19 test is taken to confirm a negative result.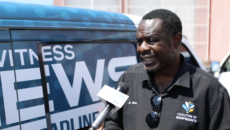 Coalition of Independents (COI) Leader Lincoln Bain said his party has raised the issue with Parliamentary Commissioner Lavado Duncanson and believes drive-thru voting is the appropriate solution.
He said eligible voters cannot be disenfranchised because of illness.
"There is nothing in the law that says you can disenfranchise them because they are ill," Bain said.
"They should be allowed to vote and we need to do something about this.
"We have brought this up to the parliamentary commissioner on a few occasions and their hands are tied.
"They don't know what to do. They have thought about different things — about having the polls outside, outdoors, drive-thru.
"They have thought about many different things, but they have not been able to find a solution.
"We feel there should be drive-thru allowed for persons in those situations and let people vote. You cannot disenfranchise them and I think this may end up in court."
Bahamas Democratic Movement (BDM) Leader Cassius Stuart said there is a delicate balance between infringing on people's right to vote and putting others at risk if they are allowed to go to the polls, but special provisions should be made.
"It is not an easy thing because you have two opposing elements at your hand right now; the right to vote and protecting lives," Stuart told Eyewitness News.
"While I believe everyone should have a right to vote, you know, we also have to protect the rights of other people to be safe.
"So, the government should make preparations where those who are in isolation or quarantine can vote in isolate.
"I am not sure how that is possible because we don't have electronic voting, but this also opens up another question of we need to make sure our electoral process is a little more advanced than it is now."
The Progressive Liberal Party (PLP) has threatened litigation if those in quarantine or infected are prevented from voting.
There were over 3,400 active cases and another 3,000-plus people in quarantine as of Tuesday.
Before heading into Cabinet yesterday, Minister of Health Renward Wells said the government has been presented with options on how people in quarantine or those infected with the coronavirus could be allowed to vote, but health officials have advised against it.
In a separate interview, Minister of National Security Marvin Dames said the government understands the importance of voting, but will be guided by health officials.
"As we would have said from the beginning, every voting Bahamian will have the right to vote come Election Day, whether it's the advance poll or any other poll, and so I am not going to get into the back and forth with the Progressive Liberal Party," Dames said in response to questions surrounding the PLP's potential legal challenge.
"They have been saying a lot of things that's not making much sense to me.
"I am done with that question. I have made it clear over and over and over again. This is a responsible government.
"We will make decisions in the best interest of the Bahamian people. As we were saying from the beginning, that every voting Bahamian will have the right to exercise their constitutional rights, and that is one of the reasons we would have made amendments to the legislation — to ensure that happens and that it happens in a responsible way."