NASSAU, BAHAMAS — The Berry Islands and Eleuthera could see a return of increased restrictions amid rising cases of the coronavirus on both islands.
Eleven new cases of the virus have been reported in the Berry Islands in the last 72-hours, according to Chief Medical Officer Dr Pearl McMillan.
In the last seven days, Eleuthera has recorded seven new infections.
The island had previously not recorded a new case in 47 days.
The catalyst for the rapid increase in cases on the island remains unclear.
According to Dr Gillian Bartlett, who heads the COVID-19 task force for the Family Islands, a recommendation was made for more restrictive measures on the Berry Islands and Central and South Eleuthera.
"On Eleuthera, we have seen a surge, an uptick in cases and PUIs — that's persons under investigation — presenting that are symptomatic mostly between Central and South Eleuthera," she said during a Ministry of Health press conference.
"And so, yes, we have made recommendations based on what we are seeing in the numbers and what's happening operationally on the ground that we would have more restrictive measures put in place in Eleuthera — mainly that area, the central and south, based on what's happening.
"And the same would also be the recommendation for the Berry Islands, that we're also seeing an uptick in cases.
However, Chief Medical Officer Dr Pearl McMillan suggested the recommendation was not finalized and the data was still being analyzed
"Dr Bartlett is responsible for monitoring of all of our Family of Islands and certainly the recommendation that she would have referenced relates to the recommendations that will come, as she updates the Emergency Operations Center," she said.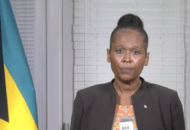 "Now certainly, those recommendations, then we have a responsibility for passing it on and certainly our data is what we will use to support that kind of recommendation moving forward once we have completed the review of our data.
"But what she would have said is that we have concerns in Eleuthera currently based on the daily monitoring and working with the healthcare providers on the ground.
"And that is a cause for concern. So, we continue to monitor; recommendations come to the EOC; and then we review the data and move forward with other recommendations."
In addition to Eleuthera and the Berry Islands, Andros and Exuma have begun to report new cases after many days without a new infection.
MICAL has experienced a lapse in cases.
Acklins has not recorded a new case of the virus in 45 days.
It has been 34 days since Mayaguana recorded a new case.
Similarly, it has been 33 days since Crooked Island recorded a new case, 22 days for Long Island, 21 days for Inagua, 10 days for Cat Island, five days for Bimini and three days for Abaco.
Restrictions measures were reintroduced in New Providence and Abaco last week Friday amid a rapid rise in cases on both islands.
This includes the discontinuation of indoor and outdoor dining, and a return of drive-thru, takeout and delivery service; a weekday curfew between 7pm and 5am; and a weekend 24-hour curfew beginning on Fridays at 7pm and ending on Mondays at 5am.
During the weekend curfews, gas stations, food stores, pharmacies remain closed.
McMillan said sufficient time has not elapsed for the impact of the restrictive measures to be reflected in the data for New Providence and Abaco.