"I cannot ignore the wish of PLPs" the former Cabinet minister says
NASSAU, BAHAMAS — Former Minister of Tourism Obie Wilchcombe said yesterday that he will determine whether to run for chairman of the Progressive Liberal Party (PLP) in the upcoming convention within 24 hours and announce his decision.
Speaking to Eyewitness News Online, Wilchcombe said the question of running did not originate with him, but it was as a result of the people and delegates, who have "made contact and organized themselves in bodies to speak with me about running".
He said he made a commitment to speak with PLPs about the way forward and shared his ideas regarding what the PLP needs to achieve its mandate.
Wilchcombe has been meeting with PLPs in various islands to gauge their support.
"The reality is — I feel very pretty good about it — I've been able to talk to so many people throughout The Bahamas, and I am still to date, completing that process, which would put me in a better position to make an announcement within 24 hours," he told Eyewitness News Online when contacted for comment. 
"It's about the people. Our party is bigger and we must always put the party first, but the people's voice as Sir Lynden [Pindling] said, the voice of the people is the voice of God.
"And the truth is, you cannot ignore the voice of the people.
"I cannot ignore the voice of the people. I cannot ignore that many have reached out — all the islands — and they have expressed what they think, and what they would wish to see happen.
"I have to listen to what they have said, and predicated upon what they have said, then I would make a decision."
PLP Leader Philip Brave Davis has called on PLPs to unite and expressed that a challenge of the current leadership team would be divisive.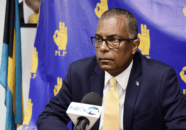 PLP Chairman Fred Mitchell has made similar expressions, though he has acknowledged that anyone has the right to contest. 
Yesterday, Wilchcombe made clear that he supports Davis and PLP Deputy Leader Chester Cooper as leader and deputy leader coming out of convention which begins Thursday.
Asked about the PLP leader's call for unity, Wilchcombe said he is a proponent of unity.
He said general conventions have been held numerous times in the PLP's 65-year history, and those internal processes do not divide the party.
"Our opponent is the FNM, not the PLP," Wilchcombe said. 
"Why would you have to have division because you have a race in the party?
"That is not so. Can you imagine, there were times when A.D. Hanna had candidates who ran for chairmanship, and Sir Lynden Pindling had candidates who ran for the leadership. Did it disunite the party? It unites the party. 
"We're all connected and supposed to be on the same philosophy, and that what brings us together. 
"It's just that we sometimes believe that an individual could perhaps perform better in certain circumstances and it's about [the] role played."
Wilchcombe also said it is only when individuals engage in "negative narrative [and] attack each other and individuals decide to make it personal as opposed to party", that division is created. 
He said when he was defeated in the deputy leader race in 2009, he went on stage at the PLP convention and called everyone to join him in a showing of unity, amidst his defeat.
Last week, PLP Chairman Fred Mitchell told supporters in North Andros that Davis asked Wilchcombe not to run for chairman of the party at the upcoming convention.
Addressing PLPs, Mitchell said, "I've got to tell you quite frankly, we did not expect for this to be a contest of any sort. [Davis] asked for everyone to stand down. He spoke personally to the main opponent in this and asked him, 'in the interest of party unity, stand down from this'. People suddenly said this is being anti-democratic; people have their rights to run, which is correct. Everyone is entitled to run, but you know, there is a time and a place to do things.
Asked about his conversation with the PLP leader, Wilchcombe said any conversation with the leader is confidential.
However, he said he does not believe that "should have been a part of the discussion".