NASSAU, BAHAMAS – Minister with responsibility for local government Renward Wells is expected to provide an update on the relocation of the General Post Office today.
Wells told Eyewitness News Online on Wednesday morning that he would provide media with an update on the relocation on Friday.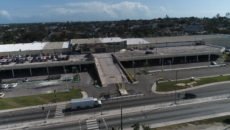 Wells has been evading the media for a little over one month; stalling with unfulfilled promises that he would provide an update on the way forward.
On Wednesday, Wells broke his silence and confirmed that he intended on meeting with staff at the General Post Office this week and would have a better understanding of the way forward thereafter.
"Soon, soon, soon. I'm going to talk to y'all soon about it," Wells asserted.
"By Friday, because I have to meet with all the staff he said."
Opposition Progressive Liberal Party leader Philip Brave Davis is also asking for additional details of the arrangement to be revealed in the Lower Chamber.
"I want you'll to put the lease on the table," Davis told Wells. "I want to see what is going on with that lease."
Davis was referring to the $900,000 lease that government signed with the Town Centre Mall to house the General Post Office for a period of five years.
Critics, including the opposition, labeled the agreement as controversial considering that Cabinet minister Brent Symonette is a shareholder in the mall complex.
The relocation saga has been a roller coaster ride for the dozens of post office workers who, since spring last year, have staged a number of protests in outcry against the working conditions at the East Hill Street post office location.
It was back in October 2018 that Wells made a commitment to move the mail hub from its unsafe and rodent infested location to the Town Centre Mall.
He said the relocation was expected to happen before Christmas 2018, but that was pushed to January 2019.
Three months later, the move is still up in the air.