U.S. President Trump: "We are with you" 
NASSAU, BAHAMAS — As national, regional and international entities, non-governmental organizations and private citizens answer the call to the humanitarian crisis in Grand Bahama and Abaco following the devastating blow dealt by Hurricane Dorian, the United States Agency for International Development (USAID) yesterday committed another $1 million in humanitarian assistance to The Bahamas.
USAID, the United States Coast Guard and the United Nations relief agencies joined efforts led by the National Emergency Management Agency (NEMA) and the Royal Bahamas Defence Force in the aftermath of the catastrophic Category 5 storm, which brought storm surges of up to 23 feet and hurricane force winds of over 185 miles per hour between Sunday 1-3.
As of yesterday, USAID provided more than 47 metric tons of supplies from its warehouse in Miami to help an estimated 44,000 people. The Bahamas Red Cross, a USAID partner, has been assisting with delivering those supplies in impacted areas.
USAID Administrator Mark Green said he planned to travel to The Bahamas today to oversee USAID relief efforts and look at ways to improve the response.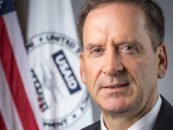 "This is obviously a very difficult time for the people of The Bahamas," Green said.
"Clearly, there is a long and difficult journey ahead. But, to make it very clear, the United States is proud to stand with our neighbors and will continue to stand with our neighbors and friends in The Bahamas as we respond to and help them rebuild from this terrible storm."
Asked about challenges facing USAID, Green said, "I mean first off, as we know and particularly the people of area know, these storms are devastating and they cause immense suffering and our goal is working closely with the Government of The Bahamas at their request to make sure that we all have a clear assessment on what damages are, where relief is most needed, what kind of relief is most needed, and moving as quickly and as effectively as we can.
"So it's not a matter of frustration, it's a matter of determination to make sure we do this. I can tell you that the White House is very engaged. I spoke to the White House this morning. I spoke to the White House last night. I've just been traveling several days in South America, I spoke to the White House numerous times from South America; the full weight of the U.S. government is behind this in making sure that we stand with our neighbors."
Royal Caribbean Cruises' Symphony of the Sea began daily shipments of over 10,000 meals and 10,000 gallons of water to Grand Bahama as of Friday, completing the mission with the assistance of its sister ships, which made similar donations of clothing and medical supplies for the thousands displaced by Dorian.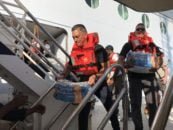 In Miami on Saturday, volunteers, several of whom were Bahamians, sorted through hundreds of boxes of donated supplies from various communities in Miami at the Charles F. Dodge City Center in Pembrooke Pines. Similar efforts have been established by NGOs in The Bahamas.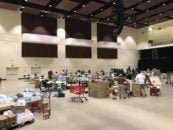 United States President Donald Trump has expressed best wishes to the people of The Bahamas in the aftermath of Dorian, and said he may travel to The Bahamas "if appropriate"
"I know what you are going through," he said.
"I spoke to your prime minister yesterday and he is absolutely devastated.
"It looks like the numbers are going to be far worse than anyone ever thought.
"At the request of your government the United States has come in and we have the Coast Guard, and we have tremendous numbers of people working there.
"We're bringing food, we're bringing water. As you know, the United States, we weren't hit nearly as hard as what was thought, but The Bahamas; you got hit very, very hard. I just want to say this on behalf of the United States and the people of The United States, we're working hard; we are with you and God Bless you."
International search and recovery teams have been deployed to Abaco to assist Bahamian authorities. The prime minister landed in Abaco on Friday to assess hurricane relief and recovery efforts on the island. He was expected to travel back to Grand Bahama today another assessment.
Evacuation efforts from Abaco and Grand Bahama have continued since the passage of the storm via the government and its agencies and the U.S. Coast Guard, which had evacuated over 300 survivors since Friday.
U.S. Coast Guard Petty Officer 2ndClass Ivan Castro, a health services technician in the U.S. Coast Guard, said medical evacuees continue to be brought in from the impacted islands to New Providence. He said one of the biggest challenges is not knowing the medical history of medical evacuees or what conditions they have experienced over the last few days.
Mindful of ensuring the "already volatile situation is not exacerbated", airspace has been restricted over Grand Bahama and Abaco.
NEMA announced that no flights are authorized to charge fees for evacuations. It said only the Bahamas Civil Aviation Authority could authorize flights, and the body was aware of reports of commercial activity involving survivors being charged for evacuations.
Those found in breach of the condition of their authorization, including flights found bringing sightseers instead of relief would have their flight authorization revoked, the authority said. NEMA said personnel were on the ground to identify aircraft suspected of being in breach.
"Only aircrafts that are authorized by Civil Aviation are able to fly in the restricted airspace," NEMA said. "Over 200 private planes have already been authorized by BCAA.
It continued, "Given the magnitude of Hurricane Dorian's impact, the airlift capacity of the functional airports in Abaco and Grand Bahama are significantly limited. These impacted islands currently have no air traffic control support and limited ground communication abilities, so flights have to be more carefully scheduled. There are also no fuel supply resources currently on the ground. Further, because of the generosity of so many partners, local and international, the airports have been inundated with aircraft requesting to land. This has created a volatile situation given the limited capacity of the runways and the current air traffic control operations."