Women with strong showing as well
DAYTONA BEACH, FLORIDA –  The University of The Bahamas Mingoes men's cross country team placed 10th out of 20 institutions competing at the ASICS Embry-Riddle cross-country meet on Saturday. It was the first time UB has competed in cross-country.
Tyler Gardiner had the best finish for the men's team placing 48th out of 102 competitors in the 7 kilometer run in a time 31:33.39.
"I felt happy about my performance but I'm unsatisfied because I really wanted to place in the top 20 or top 30," he said. "That's going to be my goal at the next meet."
Ralph Wood had the second fastest run for The Mingoes as he ran the course in 33:49.36 for 68th spot.
"My strategy was to take it out hard and to not get caught in the pack," he said. "I also wanted to go hard and to keep pace with my teammates and encourage them to go faster.  I was hoping to get out as fast as possible and not get crushed in the group but I ended up getting elbowed anyway."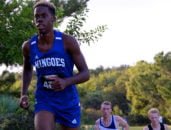 Leonardo Swain was 70th In 33:53. 69. Elijah Swain placed 85th in 36:15.55 and Joshua Davis was 86th in 36:20.36
On the women's side, Alena Mackey was the top finisher for The Mingoes with her 23:27.04 run for the 5 kilometer course. She was 33rd out of 85 competitors.
For the first lap my strategy was to stay in the middle of the pack and as we moved on to the second lap of the course I started to push my way to the front," she said. "I was trying to get up in the top 20 so I think I could have done a little bit better."
The women's team did not compete in the team competition as there was a five runner minimum to qualify.
Romica Josey took 49th in 24:46.55 for the Mingoes. "It was a rough course," she said, "but with the training Coach Rolle as put us through we were prepared and come out with a good time."
Davia Mckinney was 52nd in 25:12.41 and Sierra Sears was 70th in 28:47.00.
Cross-Country coach Ednal Rolle said he was pleased with the both teams' performance and was excited for the historic achievement.
"This goes down in the history books as the first time UB has competed in cross-country and all of these athletes should be proud of being history makers for the school and the country," he said.