NASSAU, BAHAMAS — Comradery and fitness were the order of the day in a highly anticipated, twice-postponed basketball matchup that saw members of Toastmasters Club 1600 square off under strict health and safety measures at Baha Mar.
The 3rd Annual Legends Basketball Tournament was held on Saturday, May 8. The brainchild of Club 1600 President Shacoy Mullings, the annual event honors past presidents of the public speaking and leadership club, builds comradery among members and promotes the importance of health and fitness.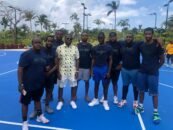 This year paid tribute to Distinguished Toastmasters Dr Keith Major, Carlos Palacious and Ancin Munnings for their service to the club. It was their job to choose a name and assemble their respective teams, stacked full of players with the most athletic prowess and capable of bringing intensity, excitement and, most importantly, a win.
Major's Team Ayatollahs, Palacious' Team Kryptonite and Munnings' Triple A's competed in a fun-filled round-robin-style tournament. Even a few light showers couldn't dampen players' enthusiasm or disrupt the game.
Team members left everything on the court but in the end, Team Triple A's defeated Team Ayatollahs in the championship game 21-16.
Rumalo Ellis walked away with the Most Valuable Player award. He posted 14 points and 6 rebounds during the game.
For months, uncertainty lingered over whether the tournament would take place due to the pandemic.
Club 1600 President Mullings said: "Cancel? That word is not in my vocabulary. This was a much-needed event. A lot of people have been less active due to spending more time indoors during the pandemic. This was one way to get our members up and active while facilitating the comradery we have grown accustomed to."
The tournament was originally scheduled for October 2020, but it was postponed due to lockdowns. Edward Thurston, vice president of club membership, who was responsible for planning and organizing the event, rescheduled to March 2021.
Thurston and team captains — Ryan Carroll (Ayatollah), Jeron Johnson (Kryptonite) and Trevino Carey (Triple A's) — hoped that by March, basketball gyms would be available and restrictions lifted, but they were not. Consequently, the tournament was postponed for a second time.
Team captains scrapped the idea of hosting the tournament in a gym and began considering suitable outdoor accommodations. Abiding by health and safety measures remained paramount for the club.
Organizers connected with Anita Rahming, assistant director of resort activities at Baha Mar, who agreed to host the tournament at the resort's outdoor basketball court. Participants and spectators were required to produce a negative rapid antigen COVID-19 test from Doctor's Hospital. The maximum capacity for the event was set at 60 people.
Rahming said: "It was a pleasure to host Toastmasters Club 1600's annual basketball tournament at Baha Mar and see the teams enjoy our recreational facilities. We look forward to welcoming the group for future events and use of our great outdoor spaces for team building, fun and friendly competition