NASSAU, BAHAMAS- A good Samaritan fishing vessel rescued three people this morning after their plane crashed in waters off Bimini, according to authorities.
While the cause of the crash remains unknown, the United States Coast Guard says the twin-engine aircraft went down approximately 20 miles east of Bimini.
The survivors were transferred to Bahamian authorities in Cat Cay, but were reportedly uninjured.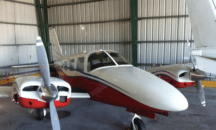 The aircraft, with registration N40702 PA 34, departed Great Harbour Cay and was en route to Florida.
This afternoon, Air Accident Investigation Department (AAID) Chief Investigator Delvin Major confirmed that the department has launched an investigation into the crash.
According to the registration history, the aircraft is owned by Miami-based 5 J Aviation Services LLC.