NASSAU, BAHAMAS — She built a name for herself as an up-and-coming author, but when it comes to choosing a career path 15-year-old Sierra Blair doesn't believe she has to choose books over another passion — baking.
Following up on an interest she has had since the age of seven, Blair was among 24 Bahamian high school students exploring a variety of careers in the fields of culinary arts, baking and pastry at Johnson & Wales University, North Miami Campus, July 19–24.
There, students created and plated desserts, and learnt the art of cooking alongside top chefs of the globally renowned culinary school.
"At my age you're interested in so many things," Blair said.
"It's hard to choose just one. Attending Johnson and Wales University gave me the opportunity to try before I buy. College is expensive, so it's important to figure out as early as possible if the major and the school you've settled on is the right fit for you. This fits perfectly."
That doesn't mean the Kingsway Academy student is shelving her children's book series.
She sees a future in which she could possibly marry her natural interests in writing, and those in culinary arts and broadcasting.
"You find out soon enough just how much you love something when you dive into it, like I did with my books and now this culinary experience," Blair said.
"That would be my advice to other students; test drive what you think will be your future career before you commit to it."
Broadening their culinary skills, living on campus, meeting faculty and mixing with current students gave the high schoolers a taste of what it would be like to be a Johnson and Wales student, said trip chaperone, Ashley Meadows, a family and consumer science teacher at Anatol Rodgers High School.
Meadows was among the first cohort of Bahamian students who participated as a group in JWU's career exploration in 2008.
Then, the trip was organized by her teacher, the late Derek Whyms, a JWU graduate.
"The trip has continued from 2008 until present," said Meadows, who works along with a second chaperone, Shandale Grant, to supervise the Bahamian teens.
"Each year we get to introduce students to this unique experience," said Ms Meadows
"Some past culinary boot camp participants are now present students of the university on scholarship."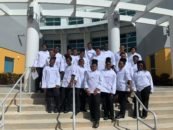 Taking advantage of this year's trip were students from Aquinas, St John's College, Queen's College, C.W. Saunders, Anatol Rodgers, C.R. Walker, C.C. Sweeting, Blake Academy (home school), Kingsway Academy and Jordan Prince Williams Baptist School.
They were joined by students from Freeport's St George's High, Eleuthera's Preston H. Albury, Exuma's L.N. Coakley High, Patrick J. Bethel (formerly Abaco Central High) and Huntley P. Christie (formerly North Andros High).
"JWU brings together different cultures and people who love and are passionate about culinary arts," said Alexae Grant, a 17-year-old Aquinas College student, who has participated in the career adventure on more than one occasion.
"I learned something from each and every one I came into contact with these past three years.
"The experience is very beneficial for aspiring culinary students because it incorporates baking and pastry, food, front of house and a beverage class. This allows you to choose which area is right for you."
For Queen's College student, Ashli Bastian, the experience was a rewarding one.
"It greatly impacted my learning of the culinary industry," said the rising eleventh grader whose culinary journey began alongside her mother, a seasonal baker who takes Christmas orders, and her grandmother, the former owner of a small food business.
A budding entrepreneur, Bastian launched her own business, Ashli's Cakes and Bakes, last December after receiving positive feedback at school from students who bought her pastries.
"Learning how to garnish pastries at JWU will help me to make my pastries more visually appealing and hopefully boost sales," said Bastian.
For second-time participant Kelesha Kelly, the experience opens a window of opportunity into the culinary world.
"I love to see people smile and compliment each dish or pastry that I make," said the St John's student. "It brings joy to me."