NASSAU, BAHAMAS – While government announced the signing of a Letter of Intent (LOI) between Lucayan Renewal Holdings and Royal Caribbean International/ITM for the sale of the Grand Lucayan Resort last week; questions surrounding the Voluntary Separation Packages (vseps) for managers at that hotel property remain unanswered.
Dion Foulkes, Minister of Labour, could only reveal Tuesday that negotiations are "underway."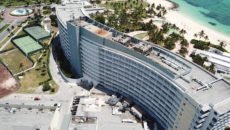 "The [tourism] minister, Dionisio D'Aguilar, is in talks with Obie Ferguson, to see to what extent they can settle the issue as it relates to the vseps for managers,' Foulkes said.
"I have not received an update in about a week or so, but I understand that those talks are progressing."
There are approximately 90 managers who are waiting for the vsep negotiation process to be finalized.
It was last week Tuesday that D'Aguilar told reporters that negotiations were ongoing and appealed to the managerial union at the resort to accept the deal on the table.
"At some stage one will have to decide what is the best deal and this is for the managers; you may not get everything that you want, but you have gone on for seven months and haven't got to a result, and you may not get the best, best, best, best deal," he said.
"The one thing I have found in business is it is better to get a deal than to wait an inordinate amount of time to get the absolute deal that you want.
"At some stage, a decision will have to be made by the workers and by the government on what is the decision because this could go on for an inordinate amount of time."
He added, "Sometimes it's important to make the deal and move one and the benefits that usually accrue to you five, six, seven years from now, you say I can't believe I waited so long to make the decision that I did because the benefits that are accruing are so substantial."
The tourism minister told media last week that he expected to meet with the union and would provide an update from that dialogue at a later date.
On Tuesday, D'Aguilar provided media with no update on those discussions.