A somber day for hundreds that gathered at the Ebenezer Methodist Church on Monday, to pay their last respects to Bahamian sports icon, the late Sir Durward Knowles.
Seawolf, as he was affectionately called, was the country's first Olympic medalist and the first to win Olympic gold. Along with his contributions to the sport of sailing, Sir Durward was also known for his philanthropy and human rights work.
He spearheaded the One Bahamas Movement, aimed at fighting for equal rights for all Bahamians, regardless of background or race.
Prime Minister Dr. Hubert Minnis addressed the funeral and said Sir Durward's legacy represents the very best of what the Commonwealth of The Bahamas is as a country.
"As I noted on another occasion, Sir Durward demonstrated the nobility and largeness of spirit to confront certain historic wrongs in our country which some others chose to silently ignore at best," Dr. Minnis said.
"He had great empathy for others and was generous in his support of education, athletics, and for persons with physical and mental disabilities. He passionately believed that we all deserved a chance to succeed in life and spent his life helping others to succeed and to fulfill their potential.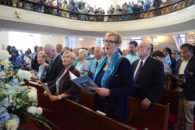 "His involvement with the community of persons living with disabilities, demonstrated a core value of Sir Durward."
In 1989, Sir Durward was awarded the Olympic Order, the highest tribute awarded by the International Olympic Committee (IOC).
He also served as President of the Bahamas Association for the Physically Disabled and President of the Rotary Club of East Nassau.