What started out as quiet visits to the shores of Bimini by the late Freedom Fighter Dr. Martin Luther King, not only introduced Biminites to a giant of a man, who would go on to capture the Nobel Peace Prize and the hearts of many, but connected two nations – The Bahamas and the United States of America.
Parliamentary Secretary for Communications and Information in the Office of the Prime Minister, Pakesia Parker-Edgecombe said Dr. King's legacy has transcended both time and location.  The Parliamentary Secretary's comments came during the official unveiling of a painting commemorating Dr. Martin Luther King Jr.'s solitary visits to Bimini.  The short ceremony took place in the departure lounge of the Bimini International Airport on Friday, February 9, 2018.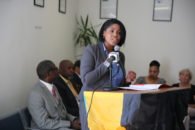 Island Administrators, Chief Councilors and Ministry of Tourism officials attended the ceremony which also hosted special guests, Andrew Young, former United States Ambassador to the United Nations and former Mayor of Atlanta; and artist, Steve Skipper of Atlanta, Georgia.
"Today demonstrates that the friendship between the United States and the Bahamas continues along the right path and is one of mutual respect and understanding," said Mrs. Edgecombe.
She stated that the Government of The Bahamas and, by extension, Biminites appreciate that "after some 50 years of Dr. King delivering his final speech, his legacy continues to echo throughout the world, mobilizing even today the fight for justice and equality at all levels and in all arenas."
The painting, by Steve Skipper, took over 1,000 hours of easel work to complete.  It features the green groves of Bimini with the image of Dr. King in the clouds, lost in thought and seemingly looking down over the small island.
Dr. Martin Luther King spent much time in Bimini where he went to retreat and 'get away,' and Bimini was the place where he sat and wrote his "I Have a Dream" speech.
While in Bimini, many times Dr. King was hosted by a son of the soil of Bimini and a renowned bone fisherman Ansil Saunders.
"In your gifting of this painting to the island of Bimini, we graciously accept with a pledge to always tell the story of the man, Dr. Martin Luther King Jr., a voice for all generations and a legacy on which all of humanity can build," added Mrs. Edgecombe, Member Parliament for West Grand Bahama and Bimini.
Andrew Young said that when Dr. King made his first trip to Bimini he was looking for a place where he could be quiet, but he also wanted to be in the midst of nature.   He noted that one of Dr. King's friends in Miami had suggested Bimini.
"I don't think he had been to Bimini before," said Mr. Young. "But once he got here, he realized that it was the perfect place for what he wanted to do.  He wrote every day and thought and prayed."
Mr. Young noted that ironically, when Dr. King's troubles in his life really began he had been in Bimini at the time, enjoying the fishing, the silence and becoming more acquainted with the people of Bimini.
"When he wrote that speech about having been to the mountain top and that he had seen the Promised Land, I think he was talking about Bimini."
Andrew Young continued, he believed that Dr. King would be very pleased with the growth and development of Bimini, and with the honour which they were bestowing upon him with the painting in the Bimini airport.
Artist, Steve Skipper said that while the original painting will reside in Bimini, replicas of it will be donated to museums in Washington, Atlanta and other parts of the United States and a copy will also be presented to Mr. Ansil Saunders.