63.2% of responding MSMEs affected by both Hurricane Dorian and COVID pandemic
NASSAU, BAHAMAS — A report released yesterday by the government and the United Nations Development Programme (UNDP) assessing the socioeconomic impact of Hurricane Dorian and the COVID-19 pandemic on MSMES in The Bahamas highlighted the need for better engagement of the informal MSME segment.
The report referenced data obtained from 486 MSMEs on Abaco and Grand Bahamas between November 2020 and February 2021.
The report noted that 63.2 percent of MSMEs were affected by both Hurricane Dorian and COVID-19, with more than 23 percent affected by COVID exclusively.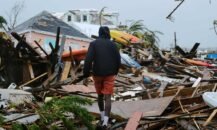 Approximately 82 percent of the respondents were owners or co-owners of a business; approximately 53 percent were women; and 40.7 percent were sole wage earners in their households.
The report noted that while 80.3 percent of MSMEs that responded were formally registered as businesses, only 54.4 percent reported positive advantages associated with registration of their business. 
According to the report, over 78 percent of MSMEs indicated that they received no support from non-governmental organizations (NGOs).
Of those MSMEs that received support, 7.9 percent received cash transfers, 2.3 percent gained access to new credit, two percent received PPE, just over one percent accessed deferred credit payments and 11.6 percent indicated some "other" form of aid.
Limited data
The report pointed out that a prior lack of comprehensive data and information on the MSME sector has limited the capacity of the government to ensure support is widely distributed to the greatest areas of need. 
"More institutionalized information would enhance the capacity of government support programs to achieve full impact and then monitor the efficacy of these efforts," the report noted.
"The development of stronger reporting systems, beyond those that exist in Inland Revenue, can help in tracking the development of MSMEs and serve to inform the development and monitoring of government policies.
[pullquote]
Government can both encourage greater development of MSME startup development and support further formalization of the segment through increasing the ease the registration process.
– UNDP report
[/pullquote]
"A dedicated team which can compile and consistently generate data on MSMEs — whether housed in the Small Business Development Centre (SBDC) as the central mechanism of disbursement of support and resources, or as a function of the planned National Statistics Institute — would be a key asset for development of policy and support programs.
"There is a need for better engagement of the informal segment, who, while estimated to contribute to as high as 30 percent of GDP, are difficult to measure or monitor.
"They may also represent a more vulnerable group, but they would not benefit from targeted support, which typically requires some minimum level of formality.
"These informal MSMEs are largely unregulated, untaxed and can create unfair competition for formal MSMEs."
According to the report, despite the $76 million that the government spent in providing enhanced unemployment benefits to support displaced workers during the COVID-19 pandemic, the International Monetary Fund (IMF), in its 2021 country report on The Bahamas, estimates that some 13,000 informal workers may have not been able to access support. 
"The need for engagement on this topic is also present among registered MSMEs in Grand Bahama and Abaco, of which almost 50 percent reported not seeing or understanding the value of registering their business," the report noted.
"Twenty percent of formal MSMEs surveyed reported issues with the registration of their businesses.
"Government can both encourage greater development of MSME startup development and support further formalization of the segment through increasing the ease the registration process."