NASSAU, BAHAMAS — A solarisation project and new imperial tanks will help solve Eleuthera's water woes, Works & Utilities Minister Alfred Sears said yesterday.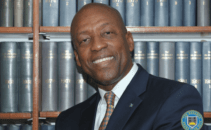 The Water & Sewerage Corporation said last week that Central Eleuthera experienced a reduction in water production, the latest of what has been a chronic problem on the island. 
Gaddy Senatus, the field manager of Suez Water Technologies & Solutions, the water plant operator, blamed power outages for the inconsistent water supply. 
Sears told Eyewitness News yesterday: "I received a note from Mr Ian Pratt who is the (BPL) Deputy CEO responsible for Family Island affairs that they were having some challenges with an engine in Hatchett Bay and also in Rock Sound during the course of last week but that they were repaired and the units were returned to service. 
"When you have a disruption in the power, it has a corresponding impact on desalination because the desalination plant is fired by the grid so when the electricity goes off it has a corresponding impact on the water plant."
Sears said Cabinet has made decisions recently to address the longtime problem. 
"With respect to water, the cabinet has approved over a million dollars for the purchase of two I think one million imperial gallon of water tanks and those tanks are being manufactured now in Florida and I understand they they will be ready in the Fall and should be installed within this coming Fall so that will considerably improve the delivery of water," he said. 
"Any breakdown in the desalination plant you will have a supply of redundancy in terms of water in the pipeline stored in these tanks so that should assist. 
"The second thing is the government is working to install solar micrograms throughout the Family Islands and that will also assist in terms of the power side, in terms of disruption. That's something that Water & Sewerage is currently undertaking right now to install solar power generation in its various desalination plants."