NASSAU, BAHAMAS — Elizabeth MP Duane Sands said yesterday that he intends to vie for the Free National Movement Elizabeth seat in the next general election.
Sands and a group of supporters dressed in FNM paraphernalia could be seen canvassing areas in the constituency on Saturday.
In an interview with Eyewitness News, Sands said: "At this point, I intend to run for Elizabeth as a representative of the Free National Movement".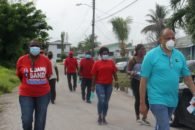 Asked whether he is confident he will receive the party's nomination for the seat, he said: "I believe that I have certainly been a very vocal and positive advocate for the party over the last year. Now, others may feel differently.
"I intend, at this point, to run and represent the people of Elizabeth as a member of the Free National Movement."
While he would not indicate whether there have been conversations with FNM Leader and Prime Minister Dr Hubert Minnis regarding his nomination, Sands said: "Every candidate will have to go through the process of application, consideration, and ratification."
The former minister of health resigned in May after revelations surfaced that he allowed six Americans to disembark a plane in New Providence – with a donation of 2,500 test swabs – despite the country's border closure.
In a national address to the country, the prime minister announced that Sands had breached protocol.
Sands tendered his resignation the next day, noting that his continued presence on the Cabinet may serve as a "distraction" from the government's effort to manage the spread of the virus in the country.
The prime minister has yet to answer any direct questions regarding the matter, declaring in June that the issue was "finished".
Sands said the ordeal will not hinder him from vying for the Elizabeth seat once again in the next General Election.
He told Eyewitness News that he has been canvassing his constituency as often as possible before and after the 2017 General Election.
"We have done a reasonable job of going into various communities and listening to the concerns of people and understanding what troubles them, what they're happy with, what they are pissed off about," Sands said.
"…I believe the response was quite positive. That's not to say that we didn't get an earful. People have no problems expressing themselves about how they feel about the governance of The Bahamas…They were also very candid about how they feel about their member for Elizabeth."
He said they are expected to continue canvassing next week.
"It's so important that we pay attention to the COVID requirements for social distancing and hand sanitization even as we meet people in their homes," Sands added.
"We are very aware of those concerns and we pay particular attention to making sure we adhere to the public health guidelines as it relates to interacting with people."
In recent weeks, other FNM politicians, including Mount Moriah MP Marvin Dames have been seen out in their constituencies, canvassing residents, with supporters dressed in party paraphernalia.