New location will support the Royal Beach Club and Bahamian recruitment
NASSAU, BAHAMAS — Building on more than 50 years of partnership that has welcomed more than 35 million vacationers to The Bahamas, Royal Caribbean International has doubled down on its commitment to the island nation with the announcement of plans to open its first Bahamas-based office in Nassau's historic downtown district. The location will be the cruise line's first brick-and-mortar presence in The Bahamas, marking another milestone in expanding Royal Caribbean's relationship with the island nation.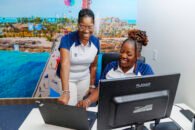 "Together with our longstanding partners, The Bahamas, we are beginning a new, bolder chapter of vacations to this beautiful island nation. The ambitions we share are great and building our first office is a concrete demonstration of our unwavering commitment to achieve them," said Michael Bayley, president and CEO, Royal Caribbean International.
"A permanent local presence has been in the works for some time, a crucial part of our plans to ensure we'll continue to tailor win-win opportunities such as Royal Beach Club at Paradise Island – a first-of-its-kind, private-public project – and more." 
Royal Caribbean's first office will be the headquarters for a team of dedicated recruiters. The space, conveniently located on West Bay Street at The Point Downtown Nassau development, will facilitate the hiring and onboarding for Bahamians seeking employment opportunities at Perfect Day at CocoCay and on board the cruise line's award-winning lineup of more than 26 ships.
In addition to providing easy access to information and opportunities for locals seeking careers with the brand, the location will also serve as a training facility and a meeting space to expand and establish relationships with Bahamian vendors and suppliers.