NASSAU, BAHAMAS — The government will engage Deloitte and Touche to carry out a rapid assessment over the next 30 days of Bahamas Power and Light's (BPL) rate reduction bond (RRB), hedging strategy and operations, Works Minister Alfred Sears told Parliament yesterday.
During his contribution to the debate on the Speech from the Throne, Sears noted that the purpose of the bond was to borrow, by way of private placement, $535 million. The sum was to be used to tackle the company's legacy debt and allow for much-needed infrastructure investments.
Sears told Parliament that the matter came before Cabinet in June of this year. 
"It was not approved and we are currently reviewing it and I would like to announce that government will be engaging Deloitte and Touche to do rapid assessment over the next 30 days for the rate reduction bond, the hedging strategy and the operation of BPL so the government can get a quick study in order to make decision on the strategy going forward," said Sears.
Last week, Prime Minister Philip Brave Davis slammed as "totally disgraceful" BPL's "floundering attempt" to secure the RRB. While delivering a 2021/2022 supplementary budget statement in Parliament, he noted that more than $20 million has been spent with still no bond placement after four years.
Infrastructure in the works
During his contribution, Sears also spoke to several infrastructure projects.
"The Thomas A Robinson National Stadium is an area of particular attention for my ministry because it will enable The Bahamas to diversify its tourism product through Sports in Paradise," he said.
"This facility is in urgent need of repair. It's not only a major sporting venue for both national and international events but also provides accommodations for the National Sports Authority, the Road Traffic Department and the National Insurance Board.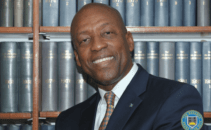 "There's a very extensive work which will include major structural, concrete repairs, removal of corridors, replacement of the metal roof to the grandstand, replacement of the fire suppressions system, plumbing repairs and air conditioning repairs. 
"Similarly, the Andre Rodgers National Stadium is currently being constructed on a 24-acre site on the southeast section of the QE Sports Centre."
Sears noted that over $25 million has already been invested in the project.
"An extraordinary interdisciplinary group of architects, engineers, quantity [surveyors] and contractors are engaged in that work, which has been on go-slow for a number of years."
Sears also noted that replacement of the Glass Window Bridge on Eleuthera is also being designed, with consultations to commence on the island shortly. 
The works minister also noted that the government has undertaken a review of the country's building code. 
"An international consultant is being identified and will begin the process so our building code will provide more resilience," said Sears.