NASSAU, BAHAMAS — Retired Superintendent of Police Douglas Hanna Sr. celebrated his 70th birthday in grand style with current and retired members of the Royal Bahamas Police Force (RBPF). coming out to show their support.
During his 32 years of unbroken service to the RBPF, Hanna was known to have been one of the most successful detectives in its history. Twenty-five of those years were spent specifically attached to the Criminal Investigation Department (CID) where he is known to have solved a plethora of cases during his time, including drugs, and major crimes, especially murders.
Top brass of the RBPF attended the black tie affair to celebrate Hanna, including Commissioner of Police Clayton Fernander. The event was held at Sapodilla Restaurant on July 22, and was blessed by Dean Harry Dean of Christ Church Cathedral, and hosted by Vaughn Albury.
Speeches and toasts of honor came from a cross-section of society as Hanna was celebrated for his exemplary service to his nation and fellow man.
He holds a 2021 National Heroes Award Distinguished Service Medal, a Police Medal for Long Service and Good Conduct, and another for Meritorious Service. Hanna has also received the Queen's Police Medal and the Bahamas Silver Jubilee Award.
Hanna is a native of Spring Point, Acklins, and he grew up through Lucky Heart Corner off East Street. He is married to Monique Hanna and is a father to seven children, eight grandchildren, and one great-grandchild.
During his time as a police detective, he led effective crime operations including the 'November Unit' and the 'Sweep Unit'. His job placed his life on the line many times, including one in which an assailant put a gun to his head, but it misfired.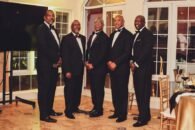 However, his challenges never swayed him from his mission to keep the streets safe for all residents.
After spending decades policing the streets, Hanna continued to be of service to God and country. He has offered himself in service to Christ Church Cathedral, the National Junkanoo Committee, the Police Inspectorate, the Airport Authority, and the Nassau Airport Development Company. He is currently the Senior Vice President of Security at the Atlantis Resort.