Residents of the Bamboo Town constituency outright rejected a proposal by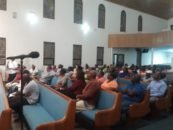 the Mosko Group of Companies Limited to construct a graveyard in their neighborhood.
The site is the former concrete mixing plant on Soldier Road which existed in the late 1970's but is now closed.
Discussions on the proposal became heated at times during a town meeting on Monday evening hosted by officials from the Town and Planning Committee at the Abundant Life Bible Church.
Dozens of residents turned out to express their views and topping their list of concerns was the potential environmental impact to the community.
President of the Bamboo Town Association Linda Sands called for relevant studies to be conducted before any decision is made.
"We have a lot of concerns. This area is made up of Kennedy and Bamboo Town and we have wells. We are concerned about contamination."
Toby Hayes representing the Mosko Group, assured the concerned residents that every environmental protection measure will be taken. Residents however pushed back, noting that he did not bring any documentation or experts to support his claims.
Other residents also charged that the Mosko family had "lived long enough on the backs of the poor." Many of them shouted, "Put it in Mosko yard, not here!" They suggested that the area is transformed into a green space or another housing subdivision.
Haynes in defending the Mosko name said that the Group of companies has contributed generously to the local community  including "donations to the salvation army."
Chair of the Town and Planning Committee, Diane Hollowesko-Dunkly explained to residents that no decision has been made and gave assurances that the meeting was simply a part of the process.
"If someone owns a piece of property, they have a right to apply to the committee for approval and we take into consideration all that is said and argued before the application is approved or denied," she said.
During the meeting, Hollowesko-Dunkly asked attendees if there was anyone who wanted the graveyard in that location, however, no hands were raised.
Earlier this year the Town and Planning committee had rejected a proposal for the construction of a graveyard on Bernard Road.  Residents in that area also were against the proposal.
Noting that Old Trail cemetery and Woodlawn Gardens are already in the surrounding area, residents said another graveyard is unwanted and unnecessary.