The following statement was issued by the Royal Bahamas Defence Force to the media:
The Commander Defence Force, Commodore Tellis Bethel, his Command Team, Officers and Marines of the Royal Bahamas Defence Force join the nation as we mourn the passing of Sir Durward Knowles on February 24, 2018.
A legendary Bahamian, Olympic sailing champion and Guinness World Record holder, Sir Durward's legacy and numerous achievements in the interest of community and national development will forever be etched in the annals of Bahamian history.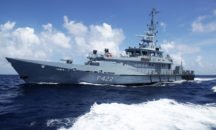 On July 31, 2014, the Royal Bahamas Defence Force commissioned one of its Legend Class patrol craft in honour of Sir Durward. Her Majesty's Bahamian Ship Durward Knowles shall be a constant reminder of this great Bahamian and an inspiration to us all.
The Royal Bahamas Defence Force, therefore, extends condolences to the late Sir Durward Knowles wife, Lady Holly, and family.  We honour his legacy and contributions to the Commonwealth of The Bahamas, and will remain forever grateful.