NASSAU, BAHAMAS — More than 50 representatives from partnering law enforcement agencies completed a two-day Subject Matter Expert Exchange seminar on Tuesday, November 24, 2020, at HMBS CORAL HARBOUR, the Royal Bahamas Defence Force (RBDF) announced yesterday.
The effort was "in keeping with the Commander Defence Force Commodore Dr Raymond King's vision of developing a professional and high-performance workforce focused on performance excellence", according to a statement the force released.
"This event aims at strengthening friendships, relationships and partnerships, ensuring interoperability and enhanced levels of coordination, and facilitating the necessary transfer of knowledge among the various agencies," the statement read.
King, who was the principal speaker at the closing ceremony, spoke on the goals of the seminar and conveyed his gratitude to the heads of the various law enforcement agencies for allowing the men and women to participate in the session, and also to his officers and marines for "a splendid workshop".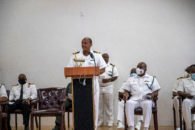 "The critical collaborative exercise was designed to improve our levels of coordination, consensus building and cooperation against the scourge of illicit drug trafficking, arms and ammunition smuggling, migrant and human trafficking, as well as illegal, unregulated and unreported fishing within our domain which threatens the stability, peace and security that we enjoy," he said.
The statement read: "As the Royal Bahamas Defence Force continues to defend the territorial waters of The Bahamas, the commander defence force reiterated that to effectively combat transnational criminal activities, the exchange of knowledge and expertise among the various agencies are important commodities.
"He also noted the three objectives achieved during the seminar, which included operational congruence, operational readiness and operational efficiency."
The coordinator of the seminar was Lieutenant Commander Origin Deleveaux and the RBDF Training Staff. Certificates were presented to participants at the conclusion of the ceremony.