NASSAU, BAHAMAS – Royal Bahamas Defence Force (RBDF) officers on Monday arrested another group of Dominican fishermen who were found poaching in Bahamian waters.
Monday's apprehension came on the heels of an arrest and charge that was made last week.
According to reports, two small Dominican go-fast boats were apprehended around 11a.m. on Monday just off North East Point, Inagua.
Upon making the apprehension, officers said they discovered seven Dominican fishermen along with several air compressors and containers of gasoline.
The men were taken into custody and handed over to police and immigration officials in Great Inagua.
They are expected to be transported to the capital and charged for various fishing offences.
Both skiffs and the fishing apparatus were all confiscated and handed over to the police for further processing.
Last Tuesday, another seven Dominican fishermen were apprehended off Inagua.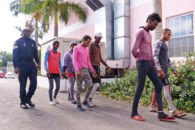 According to the RBDF, patrol craft P-129, coxswained by Petty Officer Edison Rolle, apprehended the seven Dominicans aboard two small go-fast type boats approximately 20 feet in length. The incident took place in the area of Little Inagua with approximately 150 pounds of scaled fish and lobster on board.
Fausto Garcia , Gabriel Pailora, Carlos Duran, Ramon Lopez , Carlos Rodriguez, Elias Simon and Juan Duran all appeared before Magistrate Cara Turnquest in Court No. 11 and were charged with four offences under the Fisheries Resources Act as follows: Illegal foreign fishing within the exclusive fishery zone; possession of a grouper during the closed season from December 1, 2018 to February 28, 2019; possession of prohibited apparatus, namely air compressor tank and possession of prohibited apparatus, namely spear guns.
At last Friday's hearing, all of the Dominicans pleaded guilty and were subsequently convicted and fined a total of $413,000 each or time spent in jail.