Authorities investigating armed robbery of fast-food chain, and home invasion
Authorities have warned business owners in New Providence to be cautious of transporting large sums of cash following several incidents where they were targeted, and also cautioned residents, particularly those in the southwestern part of the island, of walking late at night.
The warning comes amid a series of armed robberies in recent weeks.
In a recent interview with Eyewitness News Online, Chief Superintendent Solomon Cash said police have seen a number of robberies in the Carmichael Road area where people walking late at night became victims of robberies.
He also said there have been several instances where business owners have been targeted while transporting large cash deposits.
Cash said he believed many of these incidents were crimes of opportunity.
"We have seen one or two armed robberies that occurred over the last [week] and the previous week, but again I don't put numbers of these incidents because one is one too many," he said.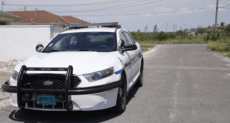 "We have noticed in the southwestern district there are one or two streets — when I say southwestern, I am referring to the Carmichael Road area — we have seen one or two armed robberies where persons were walking… and they were the target of incidents of armed robberies."
Cash said appropriate steps have been taken to address the trend in that area and authorities remain focused on their crime fighting strategies across the country.
Asked whether police have observed an uptick in armed robberies, Cash said, "It is under control, but again, we don't want any armed robberies to be happening.
"We don't look at numbers because one armed robbery is one too many.
"We would like to advise persons on their way home to be more cognizant when they are driving of persons following them.
"We advise them that if they see signs [of anything] unusual they can go to the nearest police station or go to an area where there are a lot of people around.
"Similarly, we are saying to business people, [we] want them to be cognizant of their business [operations] and how they move their cash deposits about — that sort of behavior you need to watch carefully as to who is around and who has information as to how you move about in taking cash deposits to these various banking facilities."
As it relates to the business community, Cash stressed the importance of businesses disrupting their routine and encouraged them to hire private security firms to transfer cash on their behalf.
Crime statistics released earlier this month show that armed robberies were down six percent for the first half of the year, compared to the same period in 2018.
Robbery declined 26 percent, and attempted robbery dropped by 29 percent period-over-period.
There were several armed robberies, including a home invasion over the weekend.
Authorities reported that three armed men broke into a residence on Coconut Grove Avenue around 5 a.m. and held the residents at gunpoint, before robbing them of cash and cell phones.