Another police shoot-out on the streets of New Providence has ended with the death of a man.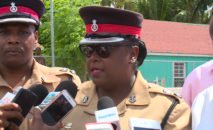 Anthony Fowler became the 9th person for the year to die in a police-involved shooting.
Police press liaison officer Superintendent Shanta Knowles said officers were on White's Alley off Wulff Road in the midst of dealing with another matter, involving persons who were allegedly in possession of an illegal handgun, when officers observed a man riding a bike while firing gunshots into the air.
The suspect, police said, was ordered to stop, however, the man reportedly fired shots at police which subsequently lead to a high-speed chase.
The chase ended in the vicinity of Lucky Heart Corner with the fatal shooting of the man.
Family members and community residents who witnessed the incident cried foul on police and said their loved one did not deserve to die this way.
Investigations are said to be ongoing.