Twenty-one years following its closing, Grand Bahama's Goombay Land – which originally opened in 1989, is expected to relaunch this summer and employ some two dozen people initially.
During his monthly visit to Grand Bahama on Friday, Prime Minister Dr. Hubert Minnis toured the family-owned property, which has scheduled a re-dedication and grand opening set for June 2018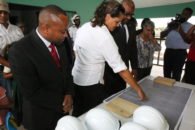 Following the tour, Dr. Minnis said, "The mere fact that it was initially owned by a parent (Reginald and Denyse Albury), and the kids are now are taking up the mantle, that in itself shows that the kids have confidence in Grand Bahama, just like we do."
Dr. Minnis said that when second generations are investing in the economy, "it sends a message. It's a small business and small businesses make up the bulk of the employment."
He added that the government will do all it can to ensure the survival of small businesses.
Owner and Director of Marketing and Events Janet Butler said, the property was popular for roller-skating and go-cart racing, and had been open for seven years, but closed following the death of her father in 1997.
"My brother and I are excited to complete and move into the legacy that our father has passed on to us," Butler said.
"We are excited to give an outlet for children to play. With us having children of our own, we know the need for getting them off of those devices and in a safe environment where they can play with their friends and not [have] all that tech talk."
To date, some $250,000 has been invested, but it is expected that this investment will increase to $500,000, after a laser tag arena is added in the fall.
Initially, it is expected to employ between 20 and 25 people.
To get the summer going, the first phase of the business is scheduled to include roller-skating and go-cart racing, and a teen dance for ages 13 to 17.
"In the fall, we are going to have STEM (science, technology, engineering and math) field trips to all of the schools here on Grand Bahama. We're also going to be having other vendors, other Bahamian entrepreneurs, rent booths at our facility to encourage other businesses to revitalize the economy," she added.
__
This article was written by Robyn Adderley, Bahamas Information Services.