Real hope and real help are finally on the way for Grand Bahama, says Minnis
NASSAU, BAHAMAS — Prime Minister Dr. Hubert Minnis yesterday announced that a major agreement will be signed this Wednesday that will bring opportunities for Bahamians businesses and companies, more jobs to construction workers and permanent jobs.
He made the statement while at the installation of executives of the Free National Movement's (FNM) Women Association.
"This very Wednesday coming there will be a major agreement signed that will bring more opportunity for Bahamian businesses and companies and more jobs for construction workers and long-term employees," Minnis said.
"Because of our new vision for The Bahamas, the Port of Nassau and downtown will become the envy of the region.
"We promised to rescue and to restore Grand Bahama after decades of downturn.
"Real hope and real help are finally on the way for Grand Bahama.
"Next week, there will be an agreement signed in Grand Bahama, that in a few weeks that will help to begin the island's turnaround.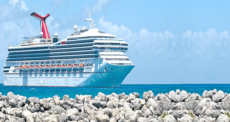 Just over a week ago, Minnis announced that the government had struck a deal with Carnival Cruise Line for a cruise port in Grand Bahama.
While addressing supporters at the Torchbearers Youth Association's convention, Minnis said he had great news to report to the nation.
"Ladies and gentlemen, I am pleased to announce that after many months of negotiations, we have delivered a deal for Grand Bahama," he said.
"This evening, I am pleased to inform residents of Grand Bahama and the entire Bahamas that the Carnival port development is going full speed ahead.
"Grand Bahama, the change you asked for is about to happen."
While the rate of unemployment has dropped between November 2018 and May 2019 — from 11.9 per cent to 10.9 per cent — more than 3,500 people remain jobless in Grand Bahama, according to the latest Labour Force Survey.
The Carnival cruise port is expected to create up to 1,000 direct and indirect permanent jobs.
When he announced the project in February, Minnis said construction will be done by majority Bahamians, and the bulk of retail outlets and stores will be owned and operated by Bahamians.
The $100 million cruise port to be developed in Sharp Rock is expected to act as a major catalyst for Grand Bahama's economy and tourism on the island.
In March, the government announced it signed a letter of intent with Royal Caribbean International and the ITM Group for the purchase of the Grand Lucayan resort at $65 million and redevelopment of the Freeport Harbour at a cost of over $130 million.
An estimated 2,000 jobs are expected to be created during the first phase of development