An investigation has been ordered into Bahamas Power and Light (BPL), according to Prime Minister Dr. Hubert Minnis.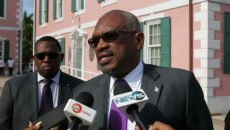 The investigation, which was announced during a Cabinet tour of the Grand Lucaya Resort on Grand Bahama yesterday, follows a string of allegations that have come to light over the past week weeks concerning operations at the state-run power company and its most recent former board.
"I have met this morning with the past BPL board members. I had a very good meeting with them and I have informed them in light of what has been transpiring that the government will initiate a proper investigation that will be made readily available to you," Dr. Minnis said.
Last Tuesday, BPL's entire board of directors was asked to resign from their posts effective immediately. Works Minister Desmond Bannister cited a lack of cohesion among the group as the primary reason for their dismissal, despite reports to the contrary.
The most recent issue in the saga surrounds revelations by Bannister, who outside Cabinet this week, accused former chairman Darnell Osbourne of misappropriation, while admitting to interfering with the board. That interference is what Osbourne contends is the reason the board was unable to effectively run the power company.
On Friday, the government appointed a new board led by Dr. Donovan Moxey. Stephen Holowesko was appointed deputy chairman.
Other members include James Moss, Debra Wood, Viana Gardiner and Ferron Bethell. Bethel is the only board member to have served on the previous board.
President of the Bahamas Electrical Workers Union Paul Maynard said he hopes the company can stabilise once and for all.
He noted, however, that despite the new board being appointed, he has to look out for the best interest of his members.
Maynard said that while he has no issue with a clean slate of board members, he hopes that they will do more to bring assistance to consumers they serve.
Issues impacting the previous board were highlighted following concerns expressed by the Bahamas Chamber of Commerce and Employers Confederation (BCCEC) in the request for proposal process for a new power plant at Clifton Pier.