LPIA operations disrupted for over an hour
NASSAU, BAHAMAS — A plane that made an emergency landing at Lynden Pindling International Airport (LPIA) on Saturday, veered off the runway upon touchdown and ended up on its nose.
According to authorities, the Canadair Challenger aircraft departed Pompano Beach Florida with two pilots — a American and a Bahamian — on board and touched down around 4:30 p.m.
There were no reported injuries.
Services at the airport were temporarily interrupted while the authorities and the Air Accident and Investigation Department (AAID) investigated the incident.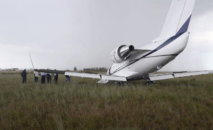 The department noted that there was heavy rain and thunderstorm clouds in the area when the plane landed, though investigators have yet to determine whether inclement weather contributed to the plane veering off the runway.
The registered owner of the aircraft is Aircraft Guaranty Corporation.
The Nassau Airport Development Company said immediately upon receiving the call on the emergency landing, NAD activated its Emergency Operations Center.
The company that manages the airport said airport rescue and fire fighters also responded to the incident as part of the safety protocol.
Due to the incident, NAD said aircraft operations were interrupted for approximately an hour and a half.
Services reportedly resumed at 6 p.m.
"Throughout the duration of the incident, the airport facilities remained opened," NAD said.
"Flights are currently arriving and departing and there were no flight cancellations.
"Passengers seeking additional information should visit our website www.nassaulpia.com or contact their airlines directly for further updates."