Labour director hopes the govt. will make similar headway with commercial banks
NASSAU, BAHAMAS — While commending Prime Minister Dr. Hubert Minnis for his intervention with the Bahamas Telecommunications Company (BTC) as its management explored plans to move its call center overseas, Director of Labour John Pinder said he hopes the government will have similar success with the commercial banks as entities in the sector continue to consolidate and outsource operations.
"I would certainly like to commend the prime minister for taking that stance," Pinder told Eyewitness News Online.
"I wish that stance could also be duplicated in the banks."
"These other persons who feel they have a right to disadvantage Bahamians — and we good service in those areas; it's just that they are looking for cheaper labor.
"I think it is unfair if the majority of the customers are in The Bahamas, and we have to be calling other parts of the world to get matters resolved.
"And so, I really commend the prime minister for getting involved and I look forward to that being duplicated in more of the private agencies."
Last Friday, BTC CEO Garfield Sinclair said BTC will hold off on moving the call center, as requested by the prime minister in meetings with Liberty Latin America CEO Balan Nair.
Sinclair indicated that there was good reason for moving the company's call center to another territory, which he claimed Minnis understood, but noted that the decision to delay the move was as a result of the prime minister's resolve to have those jobs remain in The Bahamas.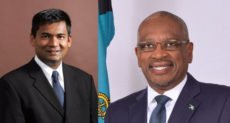 In the House of Assembly last week, Minnis also assured that the jobs at BTC — a subsidiary of Liberty — that can be filled by Bahamians will go to Bahamians, and not foreigners.
The BTC CEO has maintained that BTC will remain a company staffed by Bahamians in the overwhelming majority.
According to a Central Bank of The Bahamas report, while the financial sector's spend in the economy in 2018 expanded — largely attributed to non-staffing expenses — total employment declined by nearly two percent to approximately 4,049 people that year as a result of entities outsourcing operations and consolidation exercises.
There was a three percent drop in employment in 2017.
Between 2013 and 2017 there has been an average drop-off of around 3.6 percent in employment in the banking sector. The ratio of Bahamian to non-Bahamian employees narrowed to approximately 47:2 in 2018, compared to the 57:1 the year before, according to the data.