The Public Hospitals Authority has made an urgent call for blood donations of all types for five people, who were injured in a bus accident in South Eleuthera this morning, and airlifted to New Providence and South Florida.
More than 20 people were involved in the accident in Rock Sound around 11 a.m. and sustained varying injuries, according to authorities.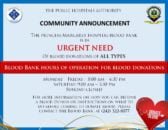 In an urgent release issued around 3 p.m., the PHA said, "Five persons seriously injured in a road traffic accident in Rock Sound, Eleuthera, this morning were airlifted to medical facilities in New Providence and South Florida.
"The Public Hospital Authority's agencies, namely Princess Margaret Hospital (PMH) and National Emergency Medical Service (NEMS) activated their Mass Casualty Incident Protocol.
"NEMA assisted with ground transportation and deployed ambulances to the Lynden Pindling International Airport (LPIA) to receive the injured.
"An urgent call for blood donations has been issued.
"Donations may be made at the Princess Margaret Hospital Blood Bank and Doctors Hospitals Blood Bank".
Before the suspension of the morning sitting of the Senate, Attorney General Carl Bethel the government had initiated a national disaster plan inclusive of sending resources to the island.
A team of investigators and healthcare officials were dispatched from Nassau.
"There have been some casualties, as yet, no deaths, but there have been casualties," Bethel said in the Upper Chamber shortly before 1 p.m.
"The minister of health and the minister of national security have initiated the national disaster plan, so all resources are being allocated to swiftly send air ambulances to South Eleuthera to bring the injured persons who need hospitalized care to New Providence."
Speaking to Eyewitness News Online around 2:30 p.m., National Emergency Management Agency (NEMA) Director Captain Stephen Russell said the U.S. Coast Guard was expected to evacuate seven critically injured to New Providence.
He said, "The remaining 23 persons will be transported back to their ship, the Princess Cays [Cruises], to be cared for on board the ship.
"The teams from the health sector… are on stand-by to receive persons when they come on the U.S. Coast Guard aircraft to treat them locally."