Bahamians will soon have another ride service option to choose from.  Bahamian owned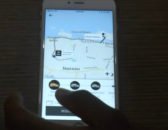 ride-service app Kroozzy will be launching in October.
Similar to Uber and Lyft in the United States, Kroozzy will give customers the option to pay and rate services as the app is being used. Additionally, customers will also have the option to select a preferred vehicle class.
Kroozzy Founder and Chief Executive Officer (CEO) Vincent Wallace explained to Eyewitness News on Friday exactly how his mobile app service works.
"Whether you are at home, at a hotel, at an event, it doesn't matter," he said.  "You don't need a reservation, you can receive a ride in minutes with the Kroozzy App.
"Every rider has the ability to open up their Kroozzy App where they can see the nearest vehicle in their area."
Wallace noted that Kroozzy drivers will undergo a thorough vetting process complete with background checks.
He further described the precautions that will be available should a customer or driver experience any challenges during their ride.
"For every ride, the rider has the ability to rate the driver and the driver has the ability to rate the rider.
"If there was a problem and you didn't like the driver or rider, there is a panic button on the app you can press while you're out driving or riding."