ELEUTHERA, BAHAMAS — One Eleuthera Foundation's (OEF) new farmers market is off to a blossoming start. This exciting new addition to the CTI campus at Rock Sound was launched on June 12 and provides the local community with a one-stop-shop for an abundance of fresh, farm-to-table produce and many authentically made Bahamian products, food items, gifts and art and crafts.
Dubbed "We Farmers Market", the bi-monthly event is held the second and last Saturday of every month from 8am to 4pm. It has lived up to its name, attracting a steadily growing group of vendors including local farmers, entrepreneurs, product manufacturers and artisans committed to making the market a phenomenal success.
At each event, patrons can expect to find a vibrant and hearty selection of organic produce, freshly harvested from the CTI farm, along with in-season crops brought to market by other community farmers.
Locally grown offerings include, but are not limited to, fresh spinach and an assortment of lettuces, eggplants, hot peppers, a variety of mangoes, sugar apples, sweet pineapples, cage-free eggs by the dozen and more. Aromatic and flavorful, home-grown herbs like fresh basil, thyme, dill, chives, fennel and lemongrass can also be found here.
While perusing, patrons also discover delicious homemade desserts and baked goods, locally-inspired hot and cold teas, freshly squeezed fruit juices, handcrafted jewelry and straw work, hand-poured medicinal soaps and organic body products, authentic craft and straw items, original paintings and even composted soil.
Residents and tourists alike have delighted in the pleasing array of unique products and the market's free-flowing setup. Guests are required to follow COVID-19 safety protocols but are able to move freely and comfortably between the open-air farmers market building (main area) and additional vendor stations neatly organized under tents in the surrounding outdoor space.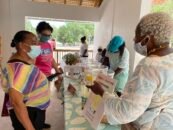 The farmers market is one of several OEF initiatives debuting this summer designed to engage and support local communities, explained Yolanda Pawar, chief communications officer, OEF.
"Health and wellness is one of the five key focus areas of our organization. Providing consistent access to fresh and nutritious, immune-boosting foods is one practical way to help our community maintain a healthier lifestyle while supporting our local farmers," Pawar said.
To find out more about becoming a vendor at the farmers market in Rock Sound, Eleuthera, email cerceliathompson@oneeleuthera.org or call 242-334-4700.