NASSAU, BAHAMAS — Minister of National Security Marvin Dames yesterday launched the first Trafficking in Persons Judiciary Awareness Campaign in The Bahamas, which was "designed to generate greater interest and foster partnerships in the fight for the humanity of all".
As he welcomed local and international participants in the webinar, Dames said their presence signified not only the transnational nature of trafficking in persons, but their commitment to ending "this modern-day form of slavery".
"Human trafficking is considered the second most profitable illicit activity after narcotics trafficking," said Dames during the opening of the virtual event.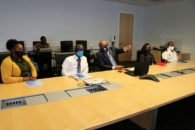 "Like many countries around the world, The Bahamas continues to identify and support victims on their road to recovery. In addition, we seek to aggressively pursue the prosecution of traffickers. Despite our efforts, trafficking still remains a vexing problem due to the greed of others and its profitable nature."
Dames pointed out that the virtual platform held that day served as a critical variable in raising awareness on the matter.
"Incorporated in such stakeholders' forum should be a comprehensive response with targeted indicators, which is necessary to eradicate this violation of human rights and human dignity," he said.
"Simultaneously, due to the transnational nature of this crime, a unified response undergirded with technical assistance and strengthened partnerships to support the fight against this activity must be a shared goal.
"Complementary, continuous pursuits of efforts, irrespective of disruptive occurrences — such as this global pandemic — must be ongoing. It is often during times of crisis and uncertainty that persons are extremely vulnerable to trafficking."
Dames also said it is accepted that not every case of exploitation will be classified as trafficking and not every prosecution will result in a conviction, but that what is important is the ability to guarantee the rights of victims will be respected and that they are afforded every opportunity under the law to have their traffickers prosecuted.
The webinar was a joint venture by the Ministry of National Security and the Bahamas Bar Association's Bahamas Bar Council, and was a part of the Key Priority of Safety and Security.
Dames noted, "Like today's initiative, we in The Bahamas believe that continuous collaboration and training platforms will facilitate both frontline officers and those employed in the judicial sector with the necessary knowledge, practical skills and appropriate attitudes to actively identify, protect and seek assistance for victims of trafficking, while vigorously pursuing convictions for traffickers."