Most murders recorded in June, 79 recorded in NP
With less than two weeks left in 2018, murders have decreased 28 percent compared to the previous year, and are on par to remain under the triple digits for the first time in the last eight years, according to Eyewitness News Online's records.
Up to this point last year, there were 120 murders.
There were 86 murders for the year up to December 17.
In a number of incidents, the victims or their attackers were on bail for serious offenses.
In 2017, there were 122 murders, 11 murders more than the previous year.
A closer look at the figures this year shows that the most murders recorded in a single month was 16 in June.
There were nine murders in January; 10 murders in February; four murders in March; six more in April; and nine murders in May.
The data shows there were four murders in July; six murders in August; five murders in September; another five murders in October and four murders in November.
July 2011 was the bloodiest month with a record 21 murders.
The lowest number of killings recorded in a single month was in July 2016.
That month zero murders were recorded.
There have been seven murders for the month so far with five of those incidents occurring in a 10-day period.
This represents an increased pace of killings compared to the past five months.
There were five killings in December 2017.
One murder was recorded in November 2017.
A further breakdown of murders for 2018 shows that there have been 79 murders in New Providence; four in Grand Bahama; two in Abaco and one in Bimini.
There were 111 murders in 2016.
In 2015, there were 146 murders, the most murders in The Bahamas since murders have been recorded.
There were also murder records in the years 2007, 2009, 2010 and 2011.
There were 123 murders in 2014 and 119 murders in 2013.
The murder count for 2012 stood at 111.
In 2011, 127 murders were recorded, the previous record.
The last time the country recorded fewer than 100 murders was in 2010 with 94 murders.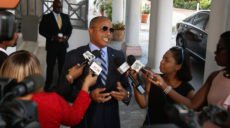 Last month, Minister of National Security Marvin Dames said crime overall was down.
He said while authorities were encouraged by what they were seeing, efforts will be increased in the coming weeks and months to continue the downward trend.
At the time, he made the statement murders were down 34 percent — 76 as of November 13, 2018 compared to 116 during the same period in the previous year.
Earlier this month, Prime Minister Dr. Hubert Minnis went a step further and declared that Bahamians were no longer fearful of crime. He said he was pleased and encouraged by what law enforcement has been doing.
He also touted the pace of murders being on par to remain under the triple digits.
He attributed the trend to aggressive and innovative strategies being implemented by the Royal Bahamas Police Force.
"I cannot discuss their strategic plans going forward, but they are working aggressively to ensure that Bahamians are safe," Minnis said.
Government officials have not evidenced that crime is down overall with statistics, however, Police Commissioner Anthony Ferguson is expected to release crime data early next month during the annual 'Meet the Press' briefing.
He is also expected to release his policing plan for 2019 during that address.