NASSAU, BAHAMAS – MIYA Bahamas, a leading provider of comprehensive water management solutions, are working to inspire the next generation of environmental leaders and advocates for water conservation. With a well-established reputation for promoting sustainable water management practices, the company is leading the charge in empowering young people to take action and make a positive impact on our planet's most precious resource – water. 
"Water is life!" noted MIYA Country Representative Alvaro Ramalho. "MIYA Bahamas has been in Nassau since 2012, working to reduce water losses and improving water distribution in New Providence with very evident positive results in water and energy savings."
In late April, Ramalho and his team were front and centre to engage with students from both the EP Roberts and Columbus Primary Schools. Through interactive presentations and hands-on activities which taught students about water distribution, water leaks and the impact of human activities on water resources, the MIYA team were able to convey important messages about the significance of water conservation and give students a new perspective on the role they play in protecting this precious resource.
"An important part of our mandate is teaching a new generation the magnitude of conserving water and protecting it," noted Ramalho. "MIYA Bahamas is continuing our work in New Providence with Water and Sewerage Company (WSC) to decrease the non-revenue water Reduction Program," he explained. "We can only achieve the water reduction goals by having a full commitment from the Nassau population. Therefore, the schools are extremely important assets to teach conservation of water and an excellent vehicle to spread the word of the water value in a world impacted by recurring droughts and global warming."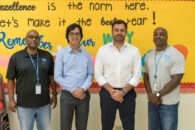 MIYA Bahamas is also using this opportunity to teach these youngsters about possible jobs in the water industry, and how the student's themselves can become "super leak detectives" and help save water loss in their homes and detect water loss in daily life. 
"We are delighted with the success of this educational tour," said Ramalho. "The school visits have been met with enthusiastic responses from students, and we've been so impressed with their attentiveness and willingness to participate and learn. I felt good knowing these children will be looking out for us all." 
Following the success of the two school visits the company is already looking forward to future educational collaborations at other private and government primary schools this year. "We have just signed a four-year additional partnership with WSC to improve the level of non-revenue water loss, and to continue to improve the quality and efficiency of the water distribution networks. So, we plan to keep spreading the message to local students, that water is life, and we need to be mindful of this every day!"