Fishermen in Acklins have retrieved from waters what its believed to be vessel of Derek Collie, the man who has been missing at sea for almost a week, according to police.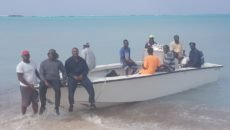 Search crews comprised of community members and local police officers have been combing the area and have taken their search out to sea. Divers have searched waters off Acklins and Crooked Island, but all efforts to find Collie are said to have been futile.
Steven Rose, who is leading one of the search parties said,  the vessel, cooler and gas containers were found at Michah Bluff Beach at Crooked Islands late Thursday evening.
"His niece also identified his clothing that had washed along the beach and the survivor who was able to swim to shore identified the items and everyone knew that that was his boat." Rose said
Collie, 39, along with another man went on a fishing expedition on Saturday, despite a severe weather warning in the area. Their vessel reportedly ran out of gas and capsized.
Rose told Eyewitness News that the survivor reported that Collie insisted on going into the sea banks off Crooked Island and weather conditions intensified.
Meanwhile he said Collie's family remains hopeful will be found.