The Department of Sports of the Ministry of Youth, Sports & Culture successfully concluded a two-day Sports Leaders' Conclave (February 9th and 10th).  The two-day event held at the National Stadium was very well attended by representatives of more than 20 sports federations.
Presentations covered a broad range of topics such as Good Governance in Sports, All About the Bahamas Olympic Committee, All About the Department of Sports, Importance of Child Safeguarding, Anti-Doping, Introducing Sports into the Education Curriculum, the Mental Game of Sports, and the National Sports Authority.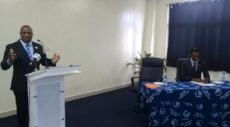 The Conclave provided the Minister of Sport, who was also in attendance for segments of both days, the opportunity to articulate his vision for sports, detailing his five-point pillars of focus: i) sports as a vehicle to promote disciple, teamwork and perseverance, ii) sports as an agent to promote healthy lifestyles, iii) mechanism to produce elite and professional athletes, iv) identify opportunities for sports scholarships and academia advancement, v) opportunities for employment and careers in sports. He also issued his charge to the Sports Leaders.
Feedback from the participants expressed satisfaction in the content of the meeting; and as an outcome the leaders agreed to reconvene to delve deeper into some areas which need specific focused discussion.