Shaunae Miller-Uibo and Donald Thomas both will be in action today in the International Association of Athletic Federation's (IAAF) Prefontaine Classic in Eugene, Oregon.
The two-day meet is a part of the IAAF Diamond League Season.
Miller-Uibo will race in the women's 400-metres (m) for the first time this season. She'll face some stiff competition in the race, however, American Allyson Felix will not compete on Sunday. Felix withdrew on the eve of the Prefontaine Classic and miss the anticipated showdown with Olympic Champion Miller-Uibo.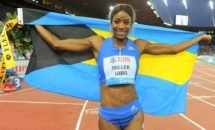 Felix, a nine-time Olympic medalist and 16-time world outdoor championship medalist, was scheduled to race on the top international level for the first time since August 20. She has raced in several smaller meets this season.
As for Miller, she said she's excited to be running in her first 400 of the season.
"In terms of my perfect distance, I'm not exactly sure, but the 400 remains my favorite race," Miller said ahead of the Classic.
"It's still the race that gives me the greatest challenge and I absolutely love that. I do love the 200 because of the speed work that I get for the 400. I love both but my favorite is still the favorite."
As for Thomas, he's competing in the men's high jump event. He's coming into the event off of a third-place finish at the Jamaica Invitational. He cleared 2.25m in Jamaica and finished behind Bahamians Jamal Wilson and Trevor Barry.