22 structures razed
NASSAU, BAHAMAS — A massive blaze razed a small shanty town village in the Carmichael Road area yesterday ripping through 20 structures and displacing some 50 people.
Firefighters were called to the fire at Pink Meadow Road off Ballot Road shortly after 10am, when residents claim plumes of smoke began to rise from a wooden structure near the front of the unregulated community.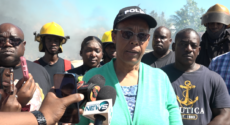 Chief Superintendent Chrislyn Skippings said firefighters were able to contain the blaze to prevent further spread within 45 minutes; however, butane tanks scattered throughout the village continued to explode as officials briefed the media around noon.
Multiple residents who spoke to Eyewitness News at the scene believed the fire was caused by a stove that was unmonitored or accidentally left on.
Skippings said investigators did not suspect arson or foul play at this time, but cautioned their probe had only just begun.
She confirmed that a team from Social Services were mobilised to provide assistance to fire victims in need of shelter.
"I feel bad because I just fix my house, 40 sheets of plywood, even the plywood is very expensive but I buy it because I'm living with my wife, my babies," said a father with six children whose home was reduced to rubble yesterday. 
"That's what I'm crying for. Who clothes they gone get, who house can I sleep with them? I just pay so much money for immigration, I can't help my children, thank God I have life," he said.
The fire follows a recent announcement by the Office of the Attorney General that it has filed a summons seeking
permission to demolish the expansion of a shanty town in Abaco and two locations in New Providence.
It also comes as protests over immigration issues were staged at Rawson Square last week with some calling for vigilantism to remove illegal dwellings believed to house undocumented migrants.
Yesterday, some residents lashed out at fire officials as they lamented the magnitude of their loss.
Skippings confirmed that one man was taken into custody for "obstinate language".
One resident accused firefighters of preventing families from saving more of their belongings, and claimed they were intentionally slow in their efforts to out the blaze.
"Nobody save nothing, everything burn down, come on," the resident said.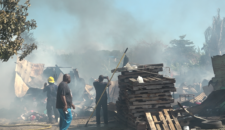 "They didn't want nobody save nothing. We work hard to get them stuff. My mommy residence and my daddy residence burn, my lil' nephew documents burn, my sister documents burn, everything. Come on man have a heart we is humans too."
Another resident said: "My old lady just give me couple dollars to go do my passport, all my clothes, all my documents, all my things burned down inside my house. I'm 31 now, I born here, I live here all my life, this all I know. This might be a village but you could have heart for people. I need help to try get my documents back, I didn't pick them up off the ground, I paid money for them."
During an interview with Eyewitness News, Skippings said firefighters had to stop several people from attempting to enter their homes.
She defended the efforts of fire workers whom she credited for quickly securing the blaze and ensuring there was no loss of life.
"There were some people who made claims, they felt that fire officials could have done a lot more but it's a fire," she said.
"Officials have to ensure their safety before they can help anyone else. The wind played a major factor in the spread of that fire, but officials were able to contain the fire within a short amount of time."
Skippings continued: "Within about 45 minutes they were able to have it contained to prevent further spread to surrounding homes, and even while they were fighting the fire there were still gas tanks exploding during the process. Firefighters must ensure their safety amid everything going on.
"They had three engines all of the engines were adequately supplied with water and they were able to contain the fire which was the biggest priority to prevent further spread," she said.
"When you look at wooden structures anytime fire hits something that's wooden you're going to have that rapid spread. It's an unfortunate situation. There was no loss of life and there were no injuries so firefighters ought to be applauded for the fine work that they have done."