NASSAU, BAHAMAS — A man was shot and died en route to hospital, while another was injured last night.
According to police, the men arrived at a residence on Commonwealth Boulevard in Elizabeth Estates around 7pm when a vehicle pulled up alongside them.
Two gunmen exited the vehicle and shot them, according to police.
The men were transported to hospital via a private vehicle when EMS personnel intercepted them on Eastern Road, near Johnson Road, and provided medical attention.
However, one of the men, who is believed to be in his late 30s, died on the scene.
The second victim was transported to hospital.
His condition was unknown.
Their identities were not released.
On the scene, Assistant Superintendent Audley Peters said the motive for the shooting was unclear.
However, he told the media police were following some "promising leads".
Asked if the men were related, Peters said he was unable to say.
Police made their usual appeal for anyone with information to contact them.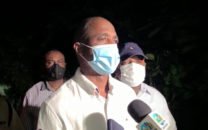 The murder comes on the heels of two killings just under two weeks ago.
A man was stabbed at a residence on Joe Farrington Road around 10am on November 5.
He died in hospital.
The night before, a man was shot dead in front of a residence on Peter Street.
Four others were shot during the incident.
Murders were down 29 percent between January 1 and September 30, compared to the same period last year.
Early last month, Commissioner of Police Paul Rolle said the police force continues to invest in technology to help in the fight against crime.
This includes the expansion of closed-circuit television, body-worn and dash cameras and 55 surveillance drones.