NASSAU, BAHAMAS — A major development proposed for Long Island is being touted as a "new model of sustainable development" never before seen in the country and promises to be The Bahamas' signature regenerative luxury development.
Nina Pesavento, President of Diamond Cyrstal Properties Ltd the project developer, while addressing the Long Island Business Outlook conference on Thursday, said that the Salinas Bahamas development represents two projects in one- an 8,000+ acre nature reserve and a boutique resort & residential community nestled within the park. 
Pesavento noted that the site spans 10,000 acres and is wholly owned by Diamond Crystal Properties Limited a subsidiary of Toronto-based investment firm The Hamilton Group Inc. 
"We intend to introduce a new model of sustainable development; one we have not seen in The Bahamas. Our site spans 10,000 acres so it is quite large. Our vision is really two class destinations in one," said Pesavento, noting that the development is poised to become "The Bahamas' signature regenerative luxury development."
According to Pesavento, The Salinas Nature Reserve—the focal point of the project—will feature 8,500 acres of coastal lagoons, beachfront and mangrove forest will bring world-class Bahamian ecotourism to travelers seeking an immersive outdoor experience that will include hands-on educational programming, hiking, biking paths, mangrove kayak and paddle board trails as well as land and water-based tours.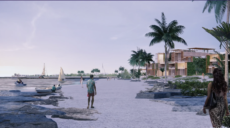 The Salinas Development Community will feature two hotel sites, with dual ocean and lagoon frontage, and 17 two to five-acre estate home lots in addition to a leeward-facing marina, according to Pesavento's presentation.