NASSAU, BAHAMAS — Recently appointed Minister of Youth, Sports and Culture Iram Lewis hosted a roundtable with industry stakeholders and former ministers on Monday, March 22.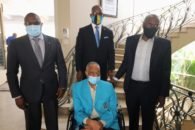 Lewis said it was not often, or perhaps not often enough, that mature Bahamian citizens in seats of authority and influence pause to say "thank you" and recognize the works and efforts of those who preceded them in various paths and stages in life.
"As a political newcomer, and more specifically as the new minister to youth, sports and culture, I could not think of no better source for guidance and ideas than to reach out to all living former ministers of this very important ministry — all 16, and, yes, I make number 17," said Lewis, who was just appointed the latest minister last month.
Among the topics discussed at the roundtable included sports programmes and development; youth initiatives; the Orange Economy; the Cultural Policy; corporate partnerships and scholarship; community outreach; the need for grant writers; and the importance of the integration of youth, sports and culture.
Lewis noted that he was no stranger to sports, nor the ministry, being an Olympian as well as playing an "integral role" as project manager during the construction of the national stadium and the layout of the master plan associated with the surrounding property.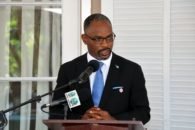 He added that he stood before them that day inspired by the many generous words of congratulations and encouragement he received; and that, with boundless gratitude of the confidence placed in him by Prime Minister Dr Hubert Minnis, he had humbly accepted the appointment as the 17th minister.
"I have, therefore, invited you here to personally demonstrate my sincere respect and appreciation to each of you no matter what party line you stand on for your contribution to this ministry, whose mantle has now been place in my care," Lewis said.
"After all, at the end of the day, we are all Bahamian and all our efforts are geared toward improving the lives of our citizens and our stakeholders by providing access and opportunities for success where without us there may seem little to no hope."